Posted on
SVGTU not in full support of universal face-to-face reopening of schools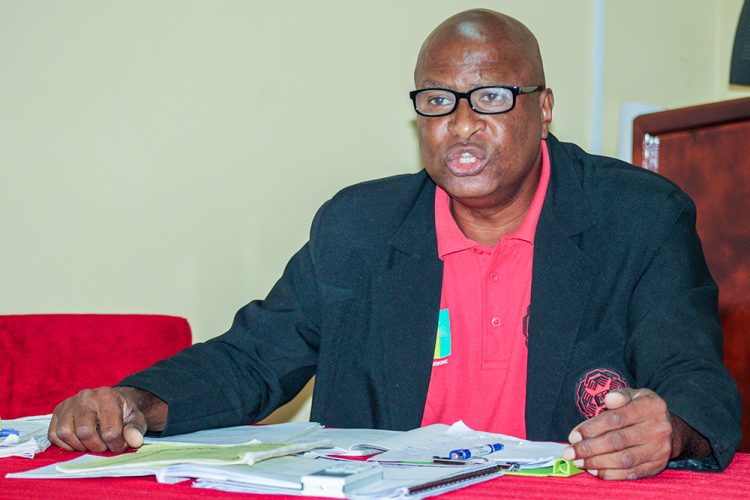 The SVG Teachers' Union (SVGTU) does not fully support universal face-to-face reopening of schools and its leadership believes that certain measures must be put in place before it can happen.
This country's education minister, St Clair Jimmy Prince announced last week that all schools in this country are scheduled to be open for face-to-face learning on August 31.
The beginning of the new school year will be the first time that all students are expected to be present at school since the premature closure of schools on March 20, after COVID-19 was identified here.
"As a Union, we never wanted everybody to go back at the same time because we know that there's a challenge with…managing the mass gathering," Oswald Robinson, president of the SVGTU said on Tuesday at a press conference.
Robinson noted that inspections and consultations were done at every school throughout the country by the Education Advisory Board to determine the best way forward.
He explained that the Board is made up of 18 organisations, one of which is the SVGTU.
Robinson said also that as the president of the Union, he was personally involved in some of the local consultations.
And he said policymakers deviated from what was recommended.
"There was only one recommendation from the consultation that was done by the Education Advisory Board for school to return as normal; to normalise the reopening of schools. All the other stakeholders — parents, teachers, students, principals, vendors, janitors and those schools that had security guards and night watchmen, all those persons including the Teachers' Union, we said there must be an alternative," the union's president said.
He noted that social distancing may pose a challenge in a school setting, which can be considered an indoor mass gathering.
Robinson said that based on the protocols that exist for that scenario, and speak only to 400 persons, schools, especially larger ones with 700 to 900 students, are already in violation of those guidelines.
The Union's head acknowledged that a shift system may pose other challenges to security and supervision as it pertains to students.
But he said his organisation believes in an integrated approach where a specific number of students attend school for one or two days "and if we have the reliability of the Internet and the devices, some teachers gonna be teaching those at home, and those at home will come to school one or two other days…"
In addition to extra handwashing stations at schools, the Union is recommending that authorities implement certain things in time for the reopening of schools at the end of this month.
Some of these include reliable access to the Internet; devices to be used for online teaching which are compatible with the various platforms being utilised; training for teachers; and designated sick bay areas to isolate persons if they show any signs of COVID-19 or any other illness.
"…Not the principal's office," Robinson said. "The principal's office is the centre, is the hub of all activities in the school. That's where you have to go to make a phone call, that's where teachers would go and interface with the principal. That's where the students would go so we want to keep that area of the principal's office – and some principals' office, is just a two by four. You don't have room to put a cot much more a bed".
He acknowledged issues that some persons have raised about wearing masks, particularly as it relates to respiratory issues, but he endorsed the advice given to wear face masks where mandatory.
The president also recommended that trained health personnel be hired to administer temperature checks at schools and not teachers.
"Our teachers are not health professionals. That's not part of teaching. That's not part of the nature of teaching. You may see it as a moral obligation. If you want to volunteer and go and check temperature, then that's up to you, but listen to the voice of the Union," Robinson said.
He added that it is "the responsibility of the Ministry of Education to ensure that they have trained personnel at the entrance of the school to check temperatures and you must keep records because in the event that a teacher or student show up with signs of COVID, then you have your record there to do contact tracing."
Robinson said also that all transportation used by teachers and students should be sanitised; schools should be fogged and security at schools should be reinforced, particularly schools where there is no day-time security.