Posted on
Call to the bar a dream come through for former educator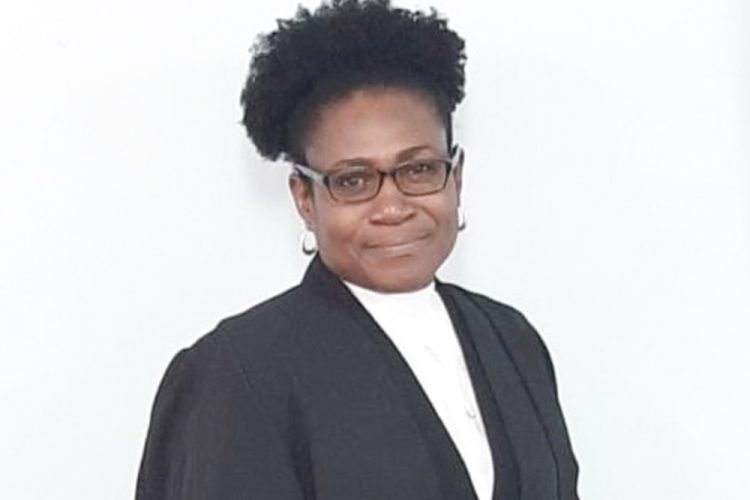 FORMER EDUCATOR, Maria Jackson-Richards, on Tuesday, July 28 had her lifelong dream realised when she was called to the Bar of St Vincent and the Grenadines (SVG) before Justice Nicola Byer of the Eastern Caribbean Supreme Court.
Having submitted her resignation letter, signalling the official end of her teaching career at the end of the 2016 school year, Jackson-Richards took the first step in the right direction when she enrolled and started pursuing her legal studies in the United Kingdom. After the successful completion of her studies, she was called to the Bar of England and Wales, through the Honourable Society of Lincoln's Inn, in 2019 and went on to be called to the Bar in the British Virgin Islands in March 2020 whilst she was actively engaged in completing her pupillage at the Office of the Director of Public Prosecutions – National Prosecution Service (ODPP-NPS) of SVG, which she started in November 2019.
The application for Jackson – Richards' Call to the Bar of SVG was moved by Director of Public Prosecutions Sejilla Mc Dowall and seconded by Assistant Director of Public Prosecutions Tammika Da Silva – Mc Kenzie, a former student of the newest member of the local legal fraternity.
According to Mc Dowall, for her, "it was a first to move a Call from the premises of the Office of the DPP in a room … by way of Zoom", due to Covid-19 safety and security measures.
Mc Dowall applauded the quality of Jackson- Richards' opinions and judgment. "Her ethos is unquestionable; her journey to this point is commendable. I have no doubt that this teacher, this wife, this mother, friend, colleague, will serve well as an Officer of the Court, a Minister of Justice, as barrister and solicitor in Saint Vincent and the Grenadines.
Da Silva – Mc Kenzie in brief endorsing comments of Jackson as a fit and suitable candidate to be called to the local Bar, apart from her qualifications, reflected on the admiration she shared for the former teacher's command of English 25 years prior and her belief that Jackson-Richards' eloquence will be a force to be reckoned with, as she contributes to the justice sector, as Barrister and Solicitor of the State.
Granting the Order, Justice Byer congratulated Counsel Jackson-Richards and stated that the ODPPNPS is a great place for her to start her career; you will get baptised by fire but it is a great place to learn; you will have the most opportunities to think quickly on your feet and hone your advocacy skills; there's great opportunity for research and though you are not able to prepare for every eventuality, your skills would be sharpened, because there is almost always certainly some kind of surprise that shows up in Criminal cases.
Jackson-Richards in her maiden speech expressed thanked her many supporters en route to her journey especially her family members, friends and colleagues at the ODPP-NPS who offered guidance and words of encouragement as she pursued her dream birthed since she was a 15-year-old sixth former at the St. Vincent Grammar School. At that stage, she decided to teach for five years to assist her to gain the necessary finances to pursue her studies; but five years multiplied many times over as according to her, "teaching …was not just a job. It was a vocation. Moulding young minds, writing on these little peoples' value sheet was something I took very seriously."
Reflecting on her journey, Jackson-Richards recounted: "Law school was intense. I realized very early that I had to hit the ground running and did just that through extra hours of immense additional reading and research. As I officially commence my career as a lawyer in SVG, I do so cognizant of the standards set by my predecessors. I will strive to uphold the other tenets of this honourable profession and to raise the bar higher by being a lawyer with high ethical standards. I intend to build a solid reputation that encompass honesty, respect for all and practice with biblical integrity."
Jackson-Richards is enthusiastic about her future in which she hopes to positively impact lives as she did in her former career as an educator and will continue to serve the State as a Crown Counsel.