Posted on
Sandals will ensure every team member grows – Director (HR)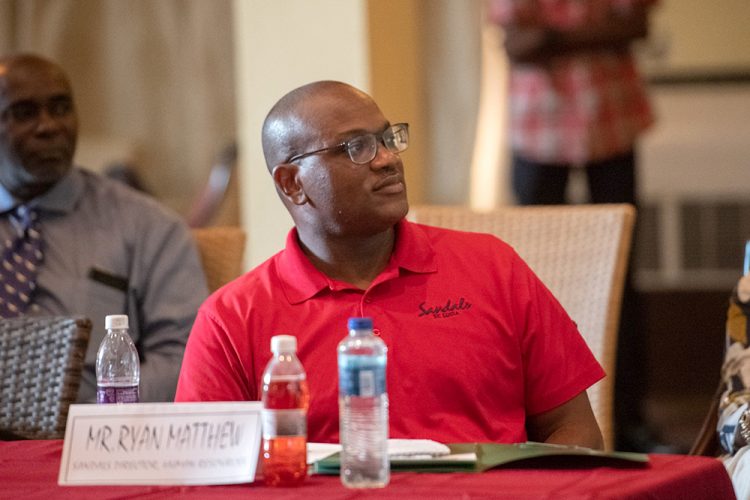 The coming on stream of a Sandals owned Beaches Resort in St Vincent and the Grenadines (SVG) will not only provide jobs, but also create opportunities for the development of our human resource.
Ryan Matthew, Director, Human Resources at Sandals Resorts International (SRI) told key stakeholders last week that the resort chain is built on its team members and training is something that is taken very seriously.
He said Sandals not only hires highly skilled individuals, but people from the communities in which they operate are taken on board and provided with training in literacy, hospitality and specialized skills like Cardiopulmonary Resuscitation (CPR).
The company's programs also allow employees to take Caribbean Examinations Council (CXC) examinations and do university courses.
"Let everyone understand, you have an opportunity to grow," Matthew said while adding that Sandals works with local educational agencies and international partners to help elevate individuals, many times, free of cost through scholarships and training programs.
"As a company, growth and development is important. We are trying to make sure every team member grows," Matthew said, adding that the company also has paid internship programmes.
Some of the company's programmes also allow employees to travel to different countries to learn about different cultures and ways of doing things.
"Growth and knowledge and development, nobody can take that away," Matthew said.
He said the company is truly a Caribbean one, disclosing that he is St Lucian; the general manager at Sandals Montego Bay is also a St Lucian who started as a chef at Sandals in St Lucia. He said there are already over 20 Vincentians who work at different levels in different areas of the company.
Matthew noted also that the Chief Operations Officer of Sandals started as a management trainee and that shows growth and development.
"The biggest part of what we do is build beautiful resorts and the people make it come to life and without the people it can't happen."
Sandals & Beaches International employs over 14,000 persons of which 90 per cent are Caribbean nationals.