Posted on
Sandals will require 700,000 pounds of fruit and vegetables annually – Official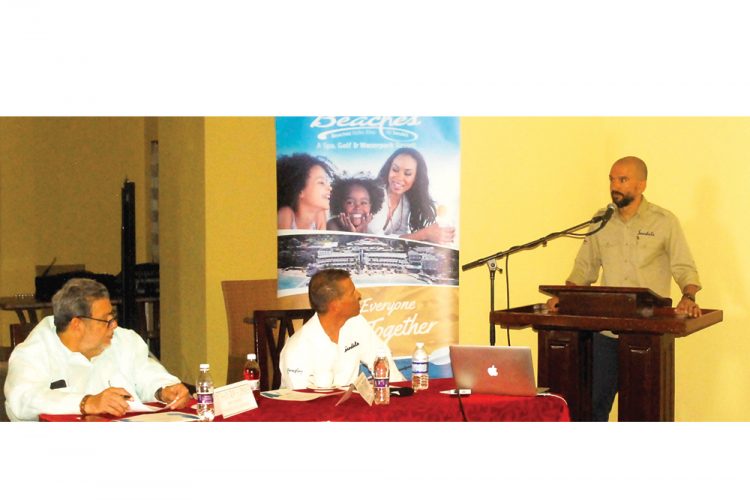 Sandals Resort tries its best to source all fruits and vegetables in the countries in which they operate which could mean significant profits for local farmers.
In Jamaica, approximately EC$10 million worth of produce is purchased annually, Jordan Samuda, head of supply chain management at Sandals said on Tuesday.
He said that 100 per cent of the fruits and vegetables consumed by Sandals in Jamaica is sourced in that country, and of that, 90 per cent is grown there, while the other items that cannot grown are bought from companies that import on the company's behalf.
"5.4 million pounds of produce consumed in Jamaica equates to just shy of EC$10 million and we look forward to working with the locals here (SVG) to achieve that same result," Samuda said at a briefing on Wednesday.
He was speaking ahead of the signing here that will see the building of a Sandal's Beaches Resort at the Buccament Bay location.
The new resort is expected to have 350 rooms with a maximum guest capacity of 1400 persons. It will have a water park as well as a five-lane bowling alley.
It is expected to create 800 construction jobs and eventually 900 permanent resort jobs.
The project is estimated to result in foreign direct investment of US$100 million.
Samuda said it is estimated that they will require approximately 700,000 pounds of local fruit and vegetables
and they will purchase locally once farmers can supply.
It is estimated that they will need 82,000 pounds (150 daily) of pineapple, 48,000 lbs of bananas, 55,000 lbs (20 daily) of melon, 37,000 lbs of lettuce, 555,000 (1513 daily) eggs, 90,000 lbs of fish annually, 8000 lbs of lobster, 240,000 lbs poultry, 70,000 lbs of pork, 1400 bottles of beer daily, 80,000 lbs of rice, 90,000 lbs of flour, 40,000 gallons of Juice and 30,000 loaves of bread.
In Jamaica, the company has set up local farmers with Irish potato seeds and is willing to do the same here as they estimate they will need about 140,000 lbs (4700 daily) of Irish potatoes. Samuda said that is one of their most used foods.
He noted that they recognize that just providing farmers a market for their produce is not always enough in some instances, so they have developed programs where they assist farmers with raw materials they may not have access to.
"We are looking forward to similar programs here," Samuda said while stressing that their main strategy is to purchase what they need to operate locally unless they are unable to do so.