Posted on
Rachel Small filled with pride now that all her hard work has paid off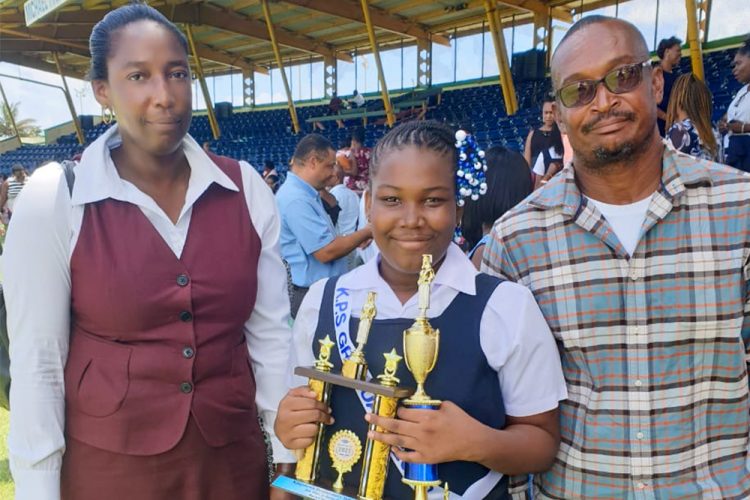 With her mind set on a career in science or law, Rachel Small, fourth overall and first for girls in this year's Caribbean Primary Exit Assessment (CPEA), was all smiles on yesterday, one week after she received her results.
"I feel good, really well about what I achieved," Small told SEARCHLIGHT at the Arnos Vale Playing Field on Thursday, shortly after collecting her graduation certificate and trophies.
She said when she received her results, she was at her grandmother's house and she instantly felt a sense of pride.
"I was happy and proud of myself," she stressed while noting that her success is a result of studying, using the Internet for research, reading books, and carrying out her school assignments while doing extra exercises.
Small, who will take up her space at the Girls' High School (GHS) during the next school term, said her favorite subject is science and she would like to focus her love for animals (especially mammals and birds) into becoming a biologist while also looking at a law degree with the aim of becoming a judge.
"I would like to be a judge to make sure people get fair trials and people get what they deserve," she said, while adding that her success can also be attributed to the attention given to her by her parents, brothers, friends and teachers and her faith in God.
The Choppins resident is the daughter of Doddridge and Desiree Small.
On Thursday, Doddridge said he is pleased, elated, and feels blessed by his daughter's performance.
"She has been a consistent worker, so it is not really surprising that she did well," he commented while noting that she is self-motivated and does her work without having to be told.