Posted on
If observation process is not comfortable, young voters may shy away – Francis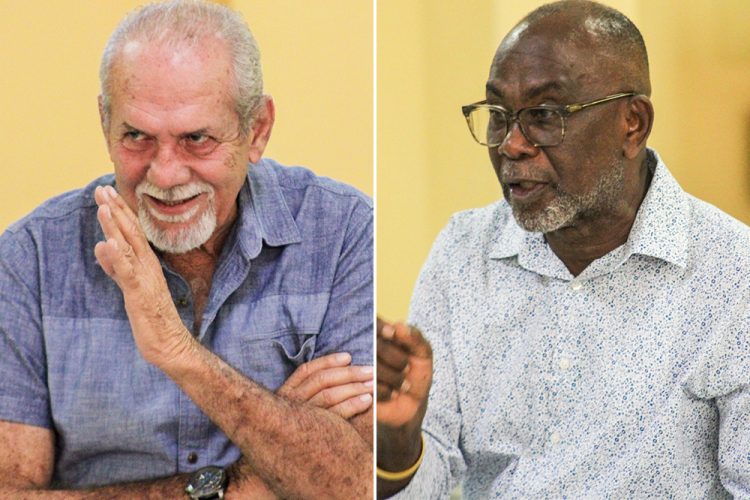 Young voters will shy away from being registered if observers make the process of doing so uncomfortable.
This view was expressed by Julian Francis, the general secretary of the Unity Labour Party (ULP) on Tuesday while speaking at a stakeholders meeting held by the Electoral Office.
The topic of observation of the registration process in constituencies caused some contention at Tuesday's meeting, particularly between Dora James, the Supervisor of Elections and Senator Kay Bacchus-Baptiste, who is New Democratic Party's (NDP) candidate for West St George.
"We are being unfair to the 18 year olds. I am sure 90 per cent of the persons who are attending registration are 18 year olds going to be registered for the first time," Francis said, as he weighed in on the issue. "Why are we as older experienced persons, making them feel uncomfortable? We have been doing registration for years in this country.
We have never had this sort of confrontation. I don't understand where this is coming from."
Francis said he has been a voter for at least 52 years and registration has always been carried out in a private scenario but not closed off to the public.
He added that activists and candidates from both major political parties occasionally observe the process.
"You know what this is going to do? Turn off the 18 year olds from voting. It is going to affect the introverts; persons who their parents are not going to allow them to go into this political banter. It is going to affect us…" Francis said.
He also opined that the 15-day registration period before elections will be very hectic with young voters waiting until the last minute to be registered.
But Major St Clair Leacock of the NDP disagreed that young voters would be deterred from the registration process.
"I haven't had the experience at a registration where a new voter, particularly an 18-year-old has been intimidated by the exercise and I don't have any reason to feel they are entitled to any particular privilege or privacy in what is a public exercise in the registration process. To provide them with that, will be a recipe for malpractice," the veteran politician said.
Leacock, who is the parliamentary representative for Central Kingstown, said his constituency has excellent protocol as it relates to observers at the registration exercises.
He also proffered that observers can be of great assistance to the process "because in practical terms, no registering officer can know all of the people turning up for registration and it is helpful on either side. They can help assist the registering officer to validate the person being registered".
Leacock said some people show up who are genuinely in the wrong constituency while others try to undermine the process.
And he said candidates and representatives must be assured that the right people are on the list as it is not easy to get persons off the list once they have already been added.
"That also substantiates the point that it is in the interest of all parties to make the registering exercise as public and transparent as possible," he said.
Stakeholders at Tuesday's meeting suggested that clear guidelines be developed so as to ensure that persons carrying out registration and observers are all on the same page in terms of what should and should not take place during the process.
Ben Exeter, the NDP's candidate for Central Leeward was recently, on two separate occasions, barred from observing the registration process in Barrouallie and Layou respectively.
Reports are that Exeter attempted to attend voters' registration in Barrouallie on July 8 but was told by the registration officer that he could not be there.
Exeter said the Supervisor of Elections also told him he could not be in the room where registration was taking place in Layou on July 13. And James has repeatedly said in the media that it is a matter of privacy on the part of persons being registered.