Posted on
Sudden changes in travel protocol unfair – travellers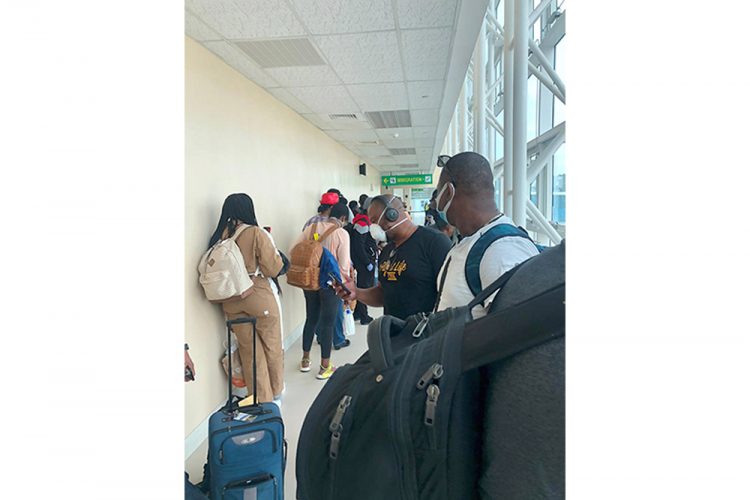 Persons travelling to St Vincent and the Grenadines (SVG) say it is unfair for authorities to make changes to travel protocols at times when persons are already en route to the destination.
Travel protocols for persons coming into SVG changed twice in 48 hours, with one of those changes being made on Friday, July 17, hours before passengers were scheduled to leave Miami for this country.
"We cannot help but think we are being put on a rollercoaster. Imagine following all the necessary protocols and booking a flight to SVG, only to be told while travelling that protocol has changed within a day," one passenger told SEARCHLIGHT hours before the scheduled AA flight.
The returning Vincentian said that many of the persons travelling on the July 18 flight had intentions of attending a funeral scheduled for tomorrow, July 22.
The individual added that it was unfair for those persons to be told that there was a change in protocol, especially since they had adhered to the two previous protocols and were already en route to SVG.
Since the resumption of AA services to SVG on July 11, 21 positive cases of COVID-19 have been recorded, 16 of which are directly related to passengers travelling from Miami.
Hours before last Saturday's flight, the Health Services Subcommittee of the National Emergency Committee amended the arrival protocol with immediate effect.
Under that protocol, all passengers on the AA 945 flight from Miami International Airport were subject to five days mandatory quarantine. And passengers who arrived without a PCR result would have a PCR test done at the AIA. A second PCR test would also be administered between day five and day seven to determine further continuation of quarantine.
Port Health Officers will make the final determination.
This new protocol meant that persons who had travelled to attend tomorrow's funeral would still be in quarantine at the time of the funeral.
The passenger said that protocols should be carefully considered before offering these flights.
"We need to be mindful of the plight of returning nationals," the Vincentian told SEARCHLIGHT. "It is unfortunate that some individuals didn't follow the initial protocol, but I honestly do not think it is fair to treat returning nationals with such levels of disrespect. Lest we forget that we are risking our lives to travel and I honestly do not think, even with some selfish individuals, that anyone is willfully trying to affect others."
Following the confirmation of more COVID-19 cases on Sunday, the Health Services Subcommittee further strengthened the protocols for persons arriving on the AA 945 flight from Miami scheduled for July 25 and those transiting to SVG, having travelled on any commercial flight out of the US.
These new protocols note that persons must arrive with a negative COVID-19 PCR test result and proof of a reservation in a SVG Tourism Authority/Ministry of Health, Wellness and the Environment approved hotel for five nights.
Persons will be quarantined at the approved hotel for five days and will be tested for COVID-19 before being released. Persons must continue quarantine in an approved home or facility for a period of nine to 16 days for a total of 14 to 21 days.
The passenger who was travelling to SVG for the funeral scheduled for tomorrow said that protocols cannot be implemented haphazardly and some considerations must be in place for travellers.
"Is it fair to individuals who followed the second protocol and got tested? They are now in a hotel room in Miami heading to SVG in the morning to attend a funeral on Wednesday and they are now being told that they cannot attend the funeral. Then we are going to be criminalized and ostracized when we break quarantine. No one wins," the individual said.
The returning national also expressed thoughts that the local authorities' approach should be more professional and that protocols should be agreed to with American Airlines.
The passenger also said "Why would someone travel to SVG to be quarantined for 21 days? This entire thing does not make sense".
Prime Minister Dr Ralph Gonsalves, on Sunday said changes have been made to the protocol because of the flare up of cases of COVID-19 in Florida and other places in the US and the failure by some arriving passengers to adhere to the protocols.
"If persons who are coming home do not follow these protocols, apart from we going to Parliament and putting as an alternative the question of the ticketing, to have you fined, then and there, for breaking the quarantine, I want to say this if persons who return choose not to pay attention to the quarantine, you may push the government to suspending the flights from the United States of America until things improve there. We will continue the flights from Canada," the prime minister said while speaking on We FM.
Gonsalves added that "the only reason why I am agreeing to the flight coming in on the 25th is because people have come here and they left their jobs, with the expectation that the flight will go back and others will come and will go back. Well you have the 25th, to make sure you have your booking because you can't be sure that we will not suspend the flight for the first weekend in August. Because persons have not been paying attention. I just want to make this point with crystal clarity".