Posted on
Janelle Jolly – Impacting Lives Through Poetry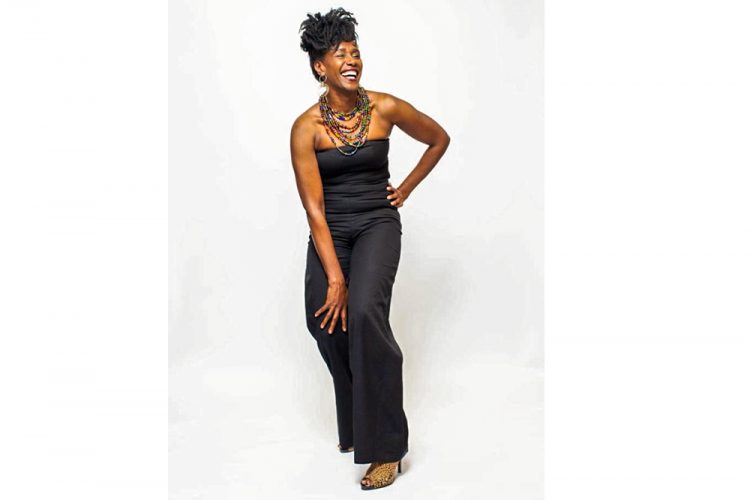 by Bria King
She stood out against the cream walls of the small room in her all black outfit. Her eyes were trained on my camera, as she prepared herself for an impromptu performance that would demonstrate what some could only describe as a "God-given talent".
It was one that she had painfully but willingly stumbled upon five years ago when she was going through one of the roughest times in her life, having lost everything.
"I didn't know I was a poet, I never thought I would be writing poetry. I know sometimes in school, you write an essay and a professor might say, 'this is very poetic'. I got that a lot, but I never knew I was a poet," Janelle Paris Jolly said when she visited SEARCHLIGHT recently.
Jolly grew up in the Vermont valley of St Vincent and the Grenadines. She worked as a teacher and journalist before migrating to the United States, where she pursued a career in social work.
But she always had a passion for writing.
It was a Friday evening on the side of the road in 2015 where Jolly asked God for some guidance, after feeling overwhelmed with the difficult times that she had been experiencing.
His answer to her came in the form of a pastor on the radio.
"I wept, just blown away by the fact of how intimate God is; how real he is because in that very moment, that very thing I cried out for, he answered. And it felt like he had just wrapped his arm around me in that moment," the poet said as she recalled her experience.
She would later go on to write her first ever poem, "Bragging on God", after finding out from a friend that the man she had heard was in fact a pastor who heard of her struggles and prayed for her; that she would be able to one day brag on God and how He had helped her through a difficult time.
Since then, the wordsmith has found healing and purpose through the pieces that she has written with God's guidance.
It is for that reason that she performs at open mics and showcases, so that she could use her talent for others to find meaning in their lives as well.
"That's what I want my poetry to do; have an impact on a life…have an impact and let persons know there is hope. You can dig yourself out of any situation, you never have to surrender. You can be the best that you can be, no matter where you land," Jolly said. "One of things I'm most careful of is not to make it about me. It's my talent but it was given to me for a purpose, not for me to say hey, look what I can do but look what God can do through me."
Jolly has produced two CDs of her spoken poetry in 2018 and 2020 respectively. This year, she also attended an open audition for America's Got Talent.
She has done several speaking engagements for the University of Washington in Seattle and her most recent pieces of poetry were inspired by the COVID-19 pandemic and the conversation of racism stemming from the death of George Floyd.
"Every opportunity I get, I like to showcase St Vincent and its beauty," Jolly said, noting that she used footage of her time here in her latest speaking engagement via Zoom. "I want to do my part. I've made that clear before; that I want to do my part to promote, expose St Vincent and the Grenadines.
The poet has been in St Vincent for some time, having come on one of the last international flights out of the United States to this country before flights stopped because of the coronavirus. She has been going through a process of renewal and intends to spend more time reconnecting, having lost her sister to cancer in April.
But the motivational speaker is open to doing speaking engagements and performing her poetry locally for anyone who may be interested. It is also her wish to fully transition into doing poetry full time.
She stood out against the cream walls of the small room in her all black outfit. Her sister's face was pinned to her left chest. And though she was reciting her signature poem, "She is a River" just for me, her words travelled beyond the walls of the conference room and landed on the ears of my colleagues working outside with all the passion she intended.
Persons interested in engaging with Jolly's pieces can visit her Facebook pages, Jolly Reflections or Jolly Janelle.