Posted on
'If you don't want to wear face masks don't come' – PM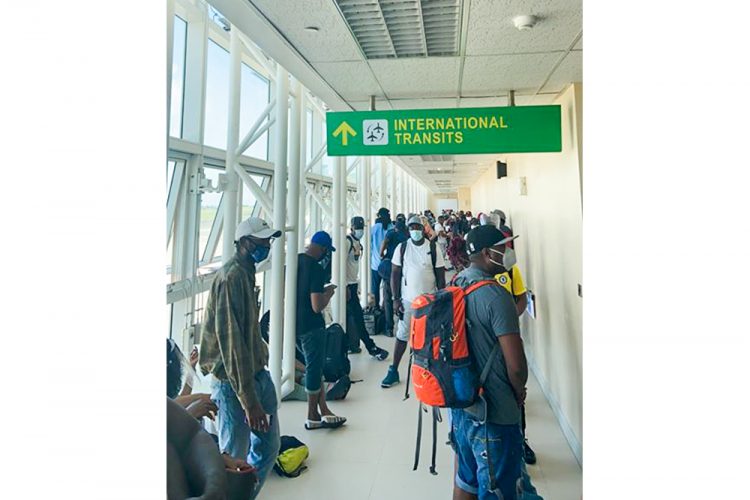 Although it is a requirement for travel, three men arrived in St Vincent and the Grenadines from one of the United States' hotspots for COVID-19 without masks or other facial coverings.
The men arrived on the American Airlines flight 945 on July 18 from Miami and several passengers who contacted SEARCHLIGHT said that the men presented letters to the airline to corroborate that certain medical conditions would not permit them to wear masks during the four-hour flight.
"We are late because of this. Pilot just said they got a letter from American [Airlines] and they could fly without it. Other passengers are highly upset but can't do a thing about it," one passenger said.
According to the passenger, before the flight took off, the American Airlines crew said they needed to ensure that the passengers were okay with the men travelling without masks, if not, the flight would be cancelled.
Another passenger told SEARCHLIGHT that while the three individuals refused to wear masks during the flight, all three promptly put on masks when they were given them upon arrival in SVG.
"I was advised – I can't believe this, that three or four persons, male, on the flight coming down Saturday, didn't want to wear masks. Well, if you don't want to wear the mask, don't come on the plane…" Prime Minister Dr Ralph Gonsalves said on Sunday while speaking on the 'Issues at Hand' radio programme.
Prior to the resumption of AA flights from Miami to SVG on July 11, this country had recorded 29 COVID-19 cases, all of which had recovered.
Since July 11, SVG has recorded 21 additional positive COVID-19 cases, 16 of which are related to AA flights coming from Miami on July 11 and July 18.
A passenger who arrived on the July 18 flight told SEARCHLIGHT that more protocols were expected "because many Vincentians were not using masks or social distancing outside of the airport".
The passenger added that one of the other persons who arrived on their flight was seen buying fruits from a roadside vendor without a mask.
One complaint was that processing at the airport took too long, which was worsened by passengers having to stand for more than an hour in a hallway with no air conditioning.
"The AIA staff boarded passengers right next to where we were standing. This in itself creates a new issue of cross contamination," the returning Vincentian said.
The passenger also said that the SVG's COVID online registration system was not working properly prior to the arrival of passengers, which prevented persons from submitting the form beforehand and held up much of Saturday's process.
The Prime Minister, while speaking on We FM on Sunday announced strengthened protocols that are to be enforced for flights coming from the United States.
These protocols will be enforced for the upcoming AA flight scheduled to arrive on July 25 and are as follows: all passengers must arrive with a negative COVID-19 PCR test result; they must arrive with a proof of reservation for five nights in a hotel approved by the Ministry of Health; passengers will be quarantined in that Ministry of Health approved hotel for five days and five nights; passengers will be tested for COVID-19 before they are released from the Ministry of Health approved hotel; and their quarantine will continue for nine to 16 days in an approved home or a government approved facility after the five nights in a hotel.
Therefore all arriving passengers will be required to remain in quarantine for 14 to 21 days.