Posted on
Rubis donates laptops, tablets and broadband to disadvantaged students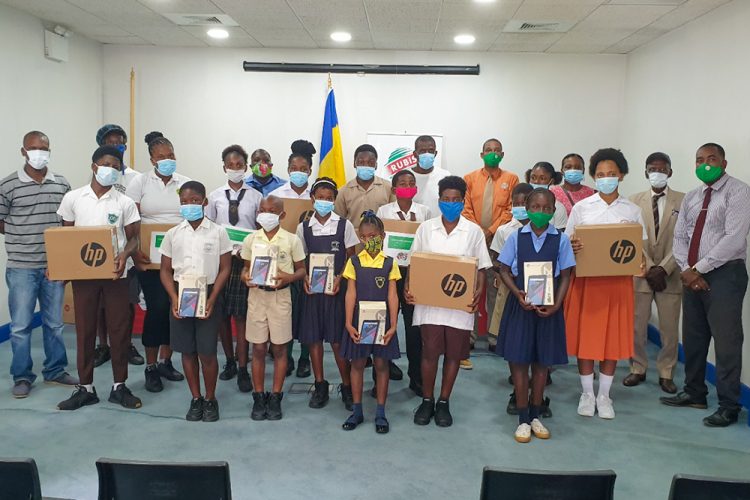 Rubis West Indies Limited has contributed to the continuation of education in St Vincent and the Grenadines (SVG) in these times of COVID-19 with the donation of laptops, electronic tablets, and free Internet.
The devices were handed over on Tuesday during a ceremony at the National Public Library at Richmond Hill which was attended by Permanent Secretary in the Ministry of Education Myccle Burke, Senior Education Officer Dixton Findlay and Retail, Commercial and Industrial Account Executive at Rubis Elroy Edwards.
Twelve students received laptops, nine received electronic tablets while 10 homes are benefiting from free broadband connections. The connections are for a six-month period. Several of the students who received help are from the Grenadines.
"Rubis remains fully committed to supporting youth development through education here in St Vincent and the Grenadines and will continue to give back to the people and the communities we serve," Edwards told the gathering.
He said that in light of the COVID-19 pandemic, students are required to participate in virtual learning and while some students may be privileged enough to have a device at home, there are those who are economically challenged and don't have a device.
"There are those families who do not have up to-date computers or none at all. There are some students who are struggling to complete assignments on the small screens of their smartphones just to get by.
"In some homes, there is just one home computer that is now being shared with the entire family. Some students have to compete with other siblings just to get access to a computer, laptop or some electronic device," Edwards said while explaining his company's decision to make the donation.
He added that with regard to Internet connectivity, there are families who do not have this or are struggling to pay for broadband so Rubis decided to help.
"The provision of these devices is just one of the many initiatives that Rubis has embarked on throughout the Covid pandemic and we will continue give back to the Vincentian community in any form we can," said Edwards.
Senior Education Officer Findlay said the students were chosen from the Ministry's list of students who do not have devices. He said the government will soon roll out a similar initiative.