Posted on
Land owners want over $1 million each for their property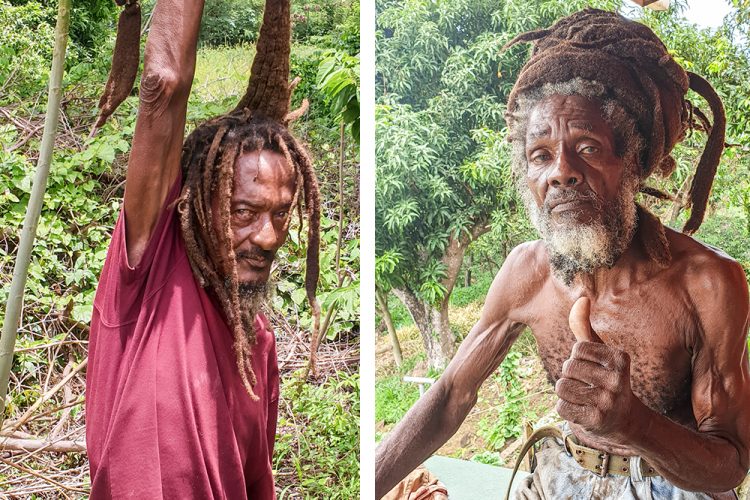 By LYF COMPTON
TWO MEN WHO own lands at Buccament say they will fight for the right to keep their property unless they get their asking price.
Simeon "Big Ras" Roberts owns two and a half acres while Shaka (he declined to give his entire name) owns one and a half acre, and both men say they must each be paid over one million Eastern Caribbean dollars for the land which the Government has earmarked for hotel development.
"Me nah love unjust things, me come from a real poor background. And you see me? Me know me African tradition. Me know is a thing against certain black people. Is a fight against we, if we own anything," Roberts told SEARCHLIGHT on Tuesday during an interview at his home in Buccament.
He said that he wants EC$1.5 million for his land and he is not willing to accept less than that. The offer is EC$10 per square foot, which if accepted, would see Roberts receiving approximately EC$1,089 million for his two and a half acres.
"Me love justice for one and all, is so me grow up," Roberts said.
He disclosed that he was given the opportunity to buy the land under the New Democratic Party (NDP) administration which was in power from 1984 to 2001 and he and his wife worked hard to pay for it.
"Nobody ah go take way my land from me just so. You want my land? Deal with me honest because me and the wife work to pay for the land; sacrifice we self," Roberts commented.
He said the government wants to buy the land to sell to foreign investors, but he would prefer if the land were to be used by the government to benefit the community directly, not through foreigners.
"I have a problem with foreigners owning my land. I hearing that Sandals want the land, so I want EC$1.5 million because is two and a half acres," Roberts declared.
Shaka told SEARCHLIGHT he does not want it to seem as if he is against what the government wants to do.
"All I want is equal rights and justice as a Rastaman and a national. I should be priority over a foreigner. Deal with me first as a citizen," said Shaka.
He said that no one has asked him what he thinks about the proposed tourism development and if he wants to own shares.
"Do you want to lease? Do you want equity? I mean they not even giving me a chance to hold on to my thing. Equity? Yes, you nah even come meet me here," Shaka told SEARCHLIGHT.
"When I sign away my land, I nor you, or no other black man can't put them black ass back here. This gone from SVG for good," said Shaka.
He noted that other persons in the area were paid millions for their land, "and you want to come spit in my hand."
Shaka said that Dave Ames, who developed the neighbouring Buccament Bay Resort had offered him EC$1.4 million but he refused and was called a fool by many persons.
His one and half acre will see him fetching EC$653,400 at the offered price of $10 per square foot.
"I don't have land to sell. I never advertise anywhere that I have land to sell. You coming to me.
"I am part of a group that has a program in place to put a field of cannabis here and everything is in place. So what do we do?"
He said he understands that he has until the end of the year to make up his mind.
On Wednesday, Minister of Finance Camillo Gonsalves told SEARCHLIGHT the land is needed for further development in the Buccament area and the government is offering EC$10 per square foot, a fair price for agricultural land in that area.
He said that he spoke with the landowners on Friday July 10 and explained the government's interest in purchasing the land to develop what was formerly the Buccament Bay Resort.
The discussions are ongoing, and the government is interested in purchasing or if they have to, acquiring, the land and paying a fair price.
"It is important that everybody receives fair compensation. The government will never steal anybody's land, but the location of the land is critical to future development in the Buccament area," the finance minister said.
He noted that when Dave Ames was around, he made exorbitant offers far in excess of market value, but the government is bound to pay a price that is fair when using tax payers' money.
"So we are not in position to match Dave Ames's offers and we hope that we can arrive at a fair understanding with all residents."
He added that most landowners are ready to deal but some are holding back.
About four persons own approximately seven acres of agricultural land which the government wants to purchase.
The finance minister said there are examples of what lands in the vicinity have been sold for and these parcels that they want to buy do not have certain amenities that could drive up the price.
"We have offered to pay for any private valuations they would like to have done to give a fair sense," Gonsalves said, while adding that the government is looking forward to an amicable solution.