Posted on
NDP women are not window dressing – Former banker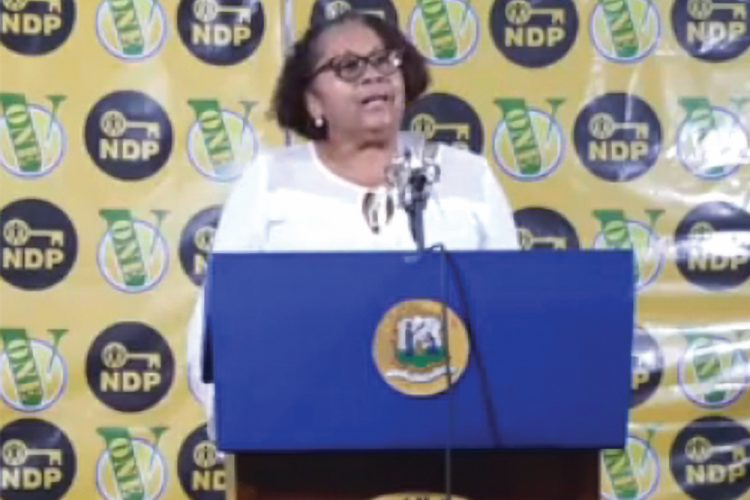 A former bank manager has asserted that the women of the New Democratic Party (NDP) are not just window dressing, but are movers, shakers and thinkers.
Laverne Velox, while addressing a virtual meeting of the New Democratic Party (NDP) in Central Kingstown on July 7 declared that the New Democratic Party has a team of competent women and men who are ready and able to serve.
"Please note that I stressed women because our women are not just window dressing, and they just don't make guest appearances," Velox stated.
"The women of the NDP slate of candidates are movers, shakers and thinkers too," Velox continued, adding, "Pound for pound we have a superior team!"
The former chief executive officer of the St Vincent Cooperative Bank, who retired in 2017 said St Vincent and the Grenadines is falling apart, but the people should not despair.
She spoke on the platform of Central Kingstown Member of Parliament 'Major' St Clair Leacock, who she said persuaded her to speak at the meeting.
"Hope, has arrived. We taking it back," Velox emphasized to the live audience and those listening virtually.
She also touched on topics such as unification and the voice of the youth, which have been spoken about by the NDP consistently throughout their campaign so far.
"We are not free to live as well as our neighbours because we exercised our right to vote for the NDP," she claimed, and "Our children are not considered for scholarships because their parents made a choice to vote NDP."
On a whole, Velox said that the people are not being taken care of. "Our clinics, schools and roads are in deplorable conditions because the people elected have become complacent and forgot that we the people matter."
"I ask you the people of St Vincent and the Grenadines, is this good governance?," to which some in the audience answered "no".
She said that the NDP has a vision, and that all persons should listen to it carefully, because it includes them all.
"The NDP's tent is huge. It can accommodate everyone. This is an open invitation for you to come join our team in fostering one nation, one people, one Vincy," she encouraged.
To the younger persons she told them that every Government has a responsibility to make higher education available to their people, and that "They're not doing you a favour. Once you have the necessary qualifications, and have met the required standards, you are eligible for a scholarship and you are eligible for a selection."
"You are under no obligation to vote because you got a scholarship for the party that is the Government at the time that gives you the scholarship. No," Velox also stated.
She reminded young persons that they are the future of their country and should let their voices be heard.
Finally, she told the constituents of Central Kingstown that their representative had been tried and tested.
"Just imagine, with everything that he's done for you, what he will achieve when the NDP forms Government," she noted, asking persons to vote for the NDP.