Posted on
Vote to make SVG 'Nice' again – Bramble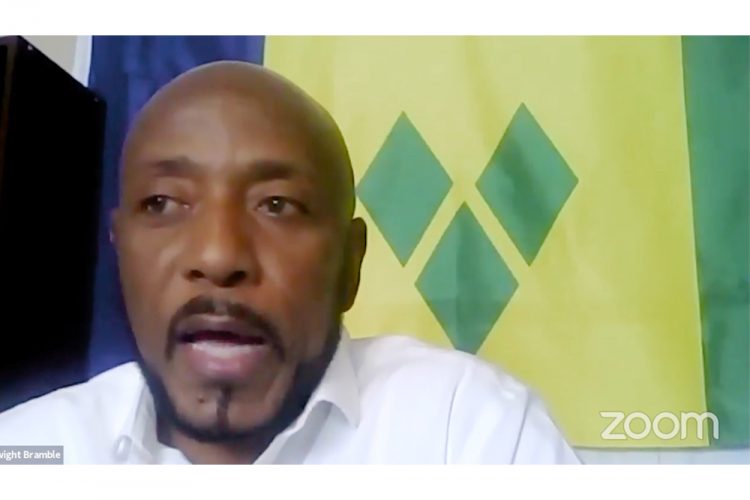 Dwight Fitzgerald Bramble, the candidate of the New Democratic Party (NDP) for East Kingstown, is on a mission to make St Vincent and the Grenadines (SVG) 'nice' again.
Last Friday, Vincentians were able to interface with the man who will come up against the Unity Labour Party's Luke Browne, to find out his plans for the constituency should NDP be successful following the 2020 general elections.
Bramble, an economist and former diplomat, resides in Saskatchewan, Canada, and because of the COVID-19 pandemic, has been unable to travel back to SVG since he was formally declared his party's candidate for East Kingstown.
He therefore launched his candidacy by way of a virtual town hall meeting using the Zoom and Facebook platforms and speaking on the topic: "The state of affairs in East Kingstown and the Nation and why should we choose Fitzgerald Bramble to be Your voice and Your choice."
Many other members of the party, including the Leader of the Opposition Dr Godwin Friday, were in attendance via Zoom.
Bramble, who is stepping into the shoes of former candidate for East Kingstown and Leader of the Opposition, Arnhim Eustace, explained his personal outlook to the listening audience. He indicated that he lives by the African principle called Ubuntu, noting "That principle says that I am because we are. It essentially embraces humanity towards others."
"…Without you, there's no Fitz Bramble, without you the people of East Kingstown and the people of St Vincent and the Grenadines there's no me," he explained.
"Why do I say that? Because in St Vincent and the Grenadines there's a high level, an unaccepted level, a dark cloud of hate, fear and divisiveness and this has led to a weakened society. St Vincent is not the nice place we used to know it as!," Bramble continued.
He urged that Vincentians have to unite.
"Vote to make St Vincent and the Grenadines NICE again. I love – that is something that I will be using throughout my campaign because I firmly believe that is what we have to do. Make St Vincent and the Grenadines NICE again. By nice I mean a Nation Interested in Caring for Each other," Bramble disclosed.
He said his main motivation for offering himself as a candidate for the people of East Kingstown is because of the level of divisiveness he has observed.
"…To get rid of this level of divisiveness. We have to be inclusive, everyone has to be included," he commented.
Generally, in outlining his vision for the constituency, Bramble noted, "The weakened community of East Kingstown, the poor cultural facilities, the poor condition and management of sporting fields and facilities, those situations will be reversed, will be eradicated by providing more jobs, teaching our people to be self sufficient."
Continuing, he added, "Better health care… we have to provide that, for everybody, not just for some, for all the people in the constituency, and we also have to provide increased sports and educational opportunities."
He indicated that for too long, the constituency has been neglected, and this needs to stop.
He said the top five issues that he will address in East Kingstown are: "first and foremost" unemployment by creation of jobs; secondly rebuilding East Kingstown as one of the strongest communities in the country and reestablishing community groups; thirdly he will focus on sports; fourthly with dealing with incidents of crime in the constituency; and finally with the condition of the roads and facilities.
Bramble noted that job creation would involve identifying a need, and undertaking activities to fit the need. "You have to create jobs and stimulate the economy – there's so many ways to do that and there's so many opportunities in our country. I mean St Vincent and the Grenadines is spending almost over 400 million dollars to import food…," he commented.
On the topic of sports, Bramble, a former national footballer and goalkeeper for SVG, stated that in order to provide exposure to local sports talent, "We have to have the facilities. If the facilities are not there, then nothing can happen."
He mentioned the athletes East Kingstown has already produced, and that they should be mentors for the aspiring athletes. Non traditional types of sports such as video gaming may also be explored, he opined.
Tourism is also area where niche markets should be looked at Bramble said, mentioning Marijuana and Senior's tourism.
Notably, the candidate was also questioned on his stance in relation to having a sex offenders' registry in SVG. "A sex offenders registry is something that is long overdue in St Vincent and the Grenadines, long overdue. Because when you look at the increasing incidences of sex offences particularly to young underage youngsters in our country, you know, it's a big problem," Bramble commented.
The candidate also touched on a number of topics including: how he would use his international experience to bring jobs to a country that is divided, how he would direct persons to become their own entrepreneurs, the Citizenship by Investment program the NDP is intending to implement, means of raising funds outside of this program, education, a green and blue economy, and rehabilitation for prisoners.
The full question and answer segment can be found on the official Facebook page of Dwight Fitzgerald Bramble.