Posted on
PM declares the cause of policeman's death before the Coroners Inquest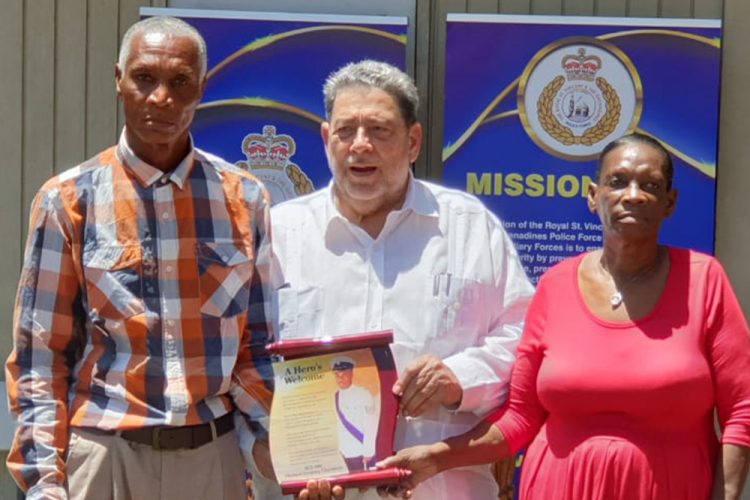 Sergeant Philbert Chambers was shot and killed by a man who is now deceased.
This assertion was made last Thursday by Prime Minister Dr Ralph Gonsalves during a ceremony held at the Central Police Station (CPS) in Kingstown to unveil a plaque in memory of the fallen police officer.
Gonsalves remarks came despite the fact that a Coroner's Inquest has not yet been held in relation to Sergeant Chambers' shooting death, which took place in the line of duty on Sunday, April 26 in Campden Park.
A Coroner's Inquest is an inquiry into the circumstances surrounding a death. The purpose of the inquest is to find out how, when and where the deceased died and to provide the details needed for their death to be registered. It is not a trial.
Sergeant Chambers and a group of officers were serving a warrant on Gleason Lewis at his home when he was shot in the head and killed. Lewis was also shot and killed during the incident.
Police officers claim that Lewis shot Sergeant Chambers as well Police Constable 700 Verrol Sam who survived the attack.
"I am sure there is some tidying up that has to be done, legal tidying up," Gonsalves told persons at the ceremony.
He added, "if the person who shot and killed Sergeant Chambers himself had not died, he would have been in the custody of the police and before the courts facing a criminal charge, perhaps of murder, certainly a charge connected to homicide, but he's dead," Gonsalves said.
The Prime Minister, who is also the Minister of National Security, said there has to be a Coroner's Inquest and Commissioner of Police (COP) Collin John has to make sure that he has all the files and statements in order to send to the district's magistrate who certified the burial of Sergeant Chambers.
"There is a legal way we have to do this so that there can be a Coroner's Inquest with a coroner's jury who will bring back a verdict in accordance with the evidence from the reports made, so that there will be a legal finality and there could be a proper entry in the record, in the registry of death, as to how Sergeant Chambers met his death," Gonsalves said.
He noted that this is how civilized people do things, "in a dignified and disciplined manner and that is what I expect to happen as soon as all the circumstances permit."
The Prime Minister's statement comes even though in certain quarters, it is alleged that Sergeant Chambers may have been killed by friendly fire.