Posted on
Guyana's incumbent President not happy with Gonsalves statements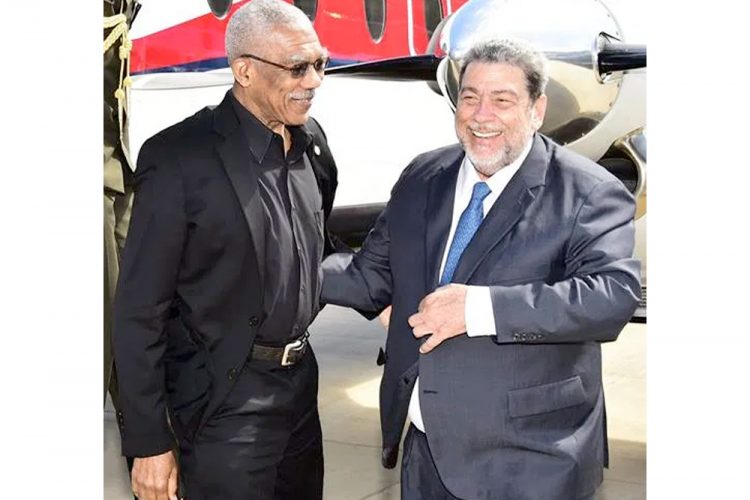 Guyana's incumbent president, David Granger has accused Prime Minister of St Vincent and the Grenadines (SVG) Dr Ralph Gonsalves of making prejudicial statements which to him, can be interpreted as a matter of interference from an official of a foreign government.
The comments in question relate to the recounting of votes in Guyana. And Gonsalves, while speaking on We FM's 'Issues at Hand' programme on Sunday, June 14 stood by comments he made four days earlier, describing them as "unremarkable".
The Vincentian Prime Minister on June 10 said CARICOM would not tolerate anyone stealing an election.
"I am satisfied that CARICOM will not stand by idly and watch the recount which is properly done for the results to be set aside. We expect the CARICOM Observer Mission to deliver its report and we expect that what is the recount will be honoured and the Guyana Election Commission will honour that recount and declare the winner in accordance with this recount," he said on NBC radio.
Gonsalves, who is expected to take up the chairmanship of the regional body on July 1, said that when someone takes part in an election, there is always a chance that they may lose.
Using the popular words of Sir Louis Straker, this country's foreign affairs minister, the Prime Minister added that if one loses, "you take your licks like a man".
According to regional reports, Granger said that Gonsalves' words are "… not the type of language which a head of government would use about any other head of government or any other jurisdiction. That is language you use in a constituency when you're campaigning".
Guyana's incumbent president also said that CARICOM, as a community of sovereign states has never used that sort of language to describe Guyana's government and that he would not accept that type of language.
Granger also said "it is a matter of interference if a person, an official of a foreign government describes a process in another country as being an attempt to steal the election, and when people start use language like 'Be a man, and take your licks'".
Joseph Harmon, the APNU+AFC coalition campaign manager was the first to publicly criticise Gonsalves' comments.
In a release issued last week, Harmon expressed surprise and concern in that Gonsalves "has chosen to pronounce on a process that is still ongoing, and proposes to direct a constitutional body (GECOM) in another CARICOM Member State, in the execution of its duties".
Granger publicly expressed his support for Harmon's statement.
His party, the People's National Congress Reform (PNCR), which is the leading constituent of the APNU+AFC coalition also issued a statement condemning the Vincentian prime minister's statements, describing them as prejudicial.
The PNCR has also called on Barbados' prime minister and current CARICOM chair, Mia Mottley to issue a statement distancing the regional body from Gonsalves' comments. It also said that if a statement is not forthcoming, it would be viewed as an attempt by CARICOM to scuttle the electoral process.
However, Owen Arthur, a former prime minister of Barbados and chief of the Commonwealth Mission to Guyana, defended Gonsalves' statement during an interview with Guyana's Kaieteur Radio on Friday.
He said that the prime minister was in good order with his comments.
And commenting on Harmon's statement, Arthur said: "for someone to attack Ralph Gonsalves for saying that CARICOM would not stand to see an election stolen because he was speaking in a generic way, is that people don't understand what binds us and that he was perfectly right to say that. To be castigated this way is quite unfortunate."
Gonsalves, on Sunday, June 14 said he is very pleased to see an esteemed leader like Owen Arthur support his statements, which have generated quite a bit of discussion.
The Vincentian prime minister also noted that Mottley, the current CARICOM chair "stated the position with clarity, that every vote must count and every vote must be made to count. I thought that that's a self evident proposition".