Posted on
Police Force pass out 105 recruits – a record for the organization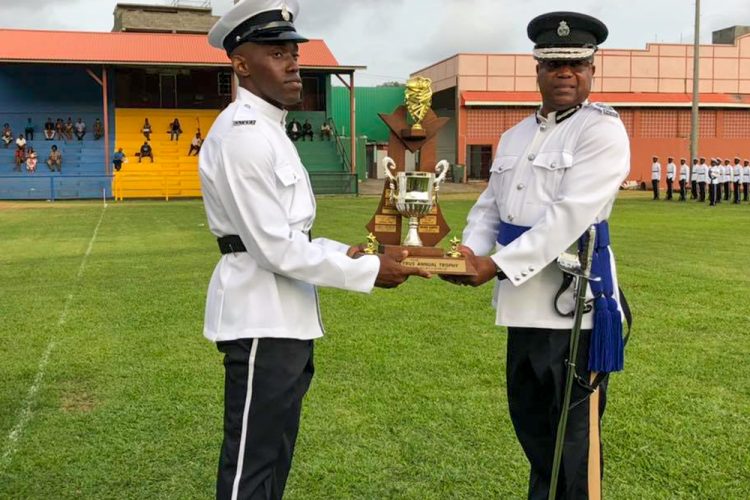 One hundred and five recruits took their oaths of office as police officers of the Royal St Vincent and the Grenadines police Force (RSVGPF) at the 38th Passing Out Parade of Recruits last Thursday, May 28.
This number is the highest there has ever been and is a significant jump from 78 recruits in 2019.
Another thing that is unprecedented is that the parade took place on the grounds of the Victoria Park rather than the Old Montrose Police Training School where it has traditionally taken place.
During the parade, the shiny new recruits were inspected by the Commissioner of Police (COP) Colin John, and the Governor General Dame Susan Dougan, and also got a chance to display their military skills in a coordinated march after taking their oath of office as police officers.
Those of the recruits that were awarded at the parade include: RC Raldean Howe who was named most disciplined recruit, RC Kuthbert Springer who was the most improved, RC Keilrick Franklyn who took home best a sociology, WRC Rozel Charles was deemed best at psychology, RC Jimroy Haywood was the best at giving evidence, RC Kurtney Pompey was named best at drill, WRC Kenyah John was awarded the prize for being best at physical training amongst the women, while RC Dafique Simmons took the physical training prize amongst the men.
The Chief Instructors Award was copped by WRC Kyandra Patterson, and the Commandant Award 2nd Place on Course was went to WRC Noriesiah Shallow.
RC Malcolm Hazelwood stood at the front of the line as best recruit, best at multi-discipline subjects, and at police duty subjects. He also added to his collection of accolades the Dr. A. Cecil Cyrus Trophy, the Baton of Honour and Commissioner's trophy.
Delivering the Commandant's Address, Commandant of the Police Training School Superintendent Benzil Samuel informed that on January 13, 2020, course number 38 began its journey with 108 recruits, comprising of 94 males and 14 females.
Three males withdrew during training, leaving 105 recruits to be take their oaths.
"These men and women came from Chateaubelair in the North West, to Union Island in the South, and back to Fancy in the North East," the Superintendent noted.
Power and mode of arrest; care, custody and rights of prisoners and detainees; domestic disputes; judge's rules; statement taking and report writing; case file preparation; homicide and other criminal investigations; fire education; trafficking in persons and domestic violence; traffic regulations; cyber crime and electronic interview, are some of the areas that the recruits covered in their training.
Speaking to the recruits coming into the force, top cop COP John advised them "you will never get to the top of the line if all you do is stand at ease and mark time," advice he had taken from former Commissioner Osbourne Quow.
"..Years of service is not time, time is involvement hence you cannot just mark time and stand at ease and expect to be an efficient and effective police officer. You must be able to march forward positively," John explained.
Punctuality, respectfulness to authorities, obeying seniors, respecting citizens, health and exercise, and integrity in not accepting bribes are some of the disciplines that officers must have in order to be able to march forward positively, he listed.
"The Royal St Vincent and the Grenadines Police Force, we are a noble organization. The members here we are generally loyal and very supportive, and I just want to encourage you recruits, as you are passing out today, that you march progressively as efficient and effective police officers," he ended.
The feature address was delivered by Prime Minister and Minister of National Security, Dr Ralph Gonsalves.
He also advised recruits that they have to acknowledge that they have entered a disciplined entity.
"…there is a chain of command which you must obey. It's a quasi-military organization. You can't become a policeman, or policewoman, and don't want to take orders from your seniors," he told the recruits.
"This is not a business of liking your superior. This is a business of being part of a disciplined organization," the Prime Minister stated.
Further, he cautioned them that as a member of a disciplined organization they can't "just choose what you want to do."
"Whatever is your preference, so be it," Gonsalves told them, adding, "But remember that whatever avenue of work you're assigned to, that work is essential to the organization."
Lastly, he told them to be concerned of the brightness of the organization as a whole.
"Don't for one moment think that because academically you, in a formal sense, upon your entry, would have had better grades than he or she who is giving you instructions…don't underestimate the experience and knowledge which a policeman and policewoman gain over time," the National Security minister stated.
The Prime Minister also cautioned them that although they have become police officers, "don't for one moment think that after six months you really, really know what policing is all about. You have just scratched the surface."
However, he indicated that he had high hopes for them, noting "When you were recruited…I saw reports on every single one of you…which schools you went to, where you from, how many subjects you got, and I'm satisfied that you have all the makings to being excellent police officers."