Posted on
Ex-Prisoners Engaged in UNDP Funded Climate Change Resilience Project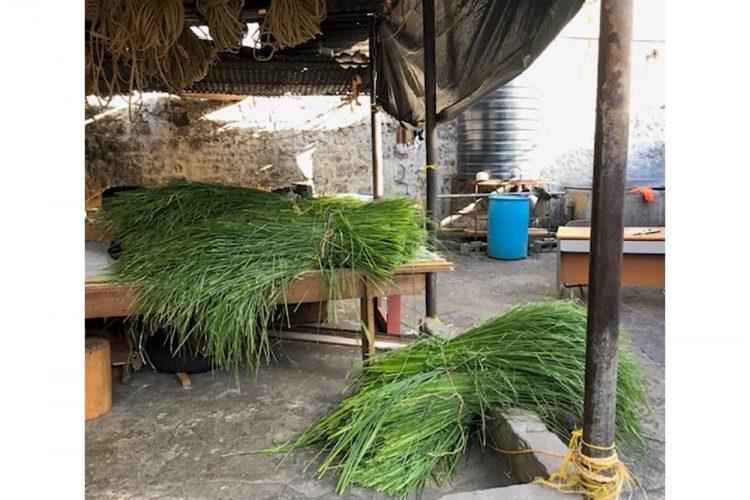 A project which seeks to assist prisoners and ex-offenders to become productive community members and take part in the urgent movement towards building climate change resilience and food security is being funded by the GEF/Small Grants Programme.
Coordinated by local non governmental organization (NGO) Hand2Earth, the project addresses land conservation through demonstration of sustainable farming systems and engages a team of former prisoners who graduated from handcraft training and workshops on entrepreneurship and land conservation whilst in prison.
Seven ex-prisoners are setting up a demonstration farm site and a vetiver craft workshop as part of an alternative and/or subsistent livelihood for them. The team is growing as it engages at-risk youth and other ex-offenders in an effective intervention to the path of crime and recurrent imprisonment. The project will also provide entrepreneurship training to prisoners and ex-offenders, as well as skills training to female prisoners.
GEF/SGP National Programme Coordinator, Tasheka Haynes-Bobb in her support for the project grant, says that she is a firm believer that upon release, ex-offenders should be afforded a second chance to become productive citizens through providing meaningful rehabilitation and education that includes learning marketable skills. Ex-prisoners should be able to rejoin the workforce and create employment for themselves and others. The project affords these opportunities and this type of project transforms lives on the grass roots level.
The project is designed and coordinated by Hand2Earth founder and project Vonnie Roudette who states "This project has grown organically, widening its scope, and our team is dedicated to creating outcomes that benefit community and natural heritage while creating alternative livelihoods and food security. One of our main objectives is to deliver sustainable livelihoods' skills', entrepreneurship training and sustainability education to those at risk of social marginalization and economic dislocation. The ultimate aim is to create safer, productive communities that are climate change resilient."
One of Hand2Earth's slogans is "soil-centred livelihoods" reflecting the organisation's focus on building sustainable communities through an intrinsic relationship with the flora, fauna and natural heritage of our islands.
Working on the premise that soil quality is fundamental to biodiversity and by extension our own health, H2E plants and propagates the deep-rooted vetiver grass for slope stabelisation, prevention of topsoil runoff, soil regeneration, natural pest control and groundwater retention. The grass' leaves provide natural fertiliser, bio-mass and a rapidly renewable resource for hand-craft production.
In 2018, H2E's 'Vetiver Systems Technology' project (sponsored by SVG Environmental Fund) established a vetiver nursery site in Penniston integrating conservation education with prisoner rehabilitation. Beneficiaries were participants in the sustainable livelihoods vetiver grass craft training (Grow in Time) program that started in SVGs prisons in 2015.
The success of the Grow In Time vetiver craft program in SVG's prisons is reflected in its low rate of recidivism (2%) among its participants.
Hand2Earth began in 2007 as a sustainability education project for youth and was registered as a non-profit company in 2017.
For information on how to apply for GEF Small Grants Programme funding visit https://sgp.undp.org.