Posted on
Activate your household water storage plans now – CWSA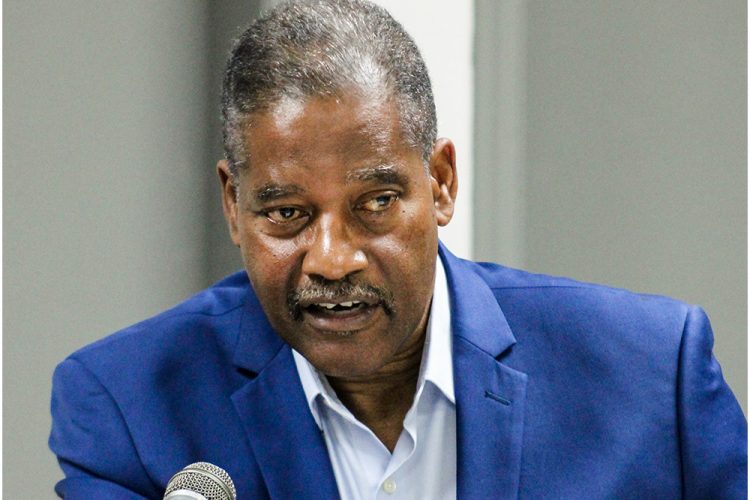 Vincentians are being asked to activate their household water storage plans because of the ongoing drought conditions affecting this country as well as the hurricane season which began June 1.
Garth Saunders, the general manager of the Central Water and Sewerage Authority (CWSA) made the recommendation last Friday, May 29 during a press conference at the authority's headquarters where he outlined the impact that the drought was having on this country.
"The first four months of this year, we've had a 40 per cent reduction generally in rainfall, and rainfall…transmits directly to river flow and water availability," Saunders said.
He noted that whereas there was 248 mm of rainfall in May 2019, there was only 4 mm in May 2020.
This significant reduction has resulted in a 35 per cent reduction in capacity at the country's five water collection and distribution systems at Jennings, Montreal, Majorca, Dalloway and Layou.
And at least 50 per cent of customers have been affected between Layou and Stubbs as the CWSA implements water rationing protocols.
Saunders said that the water authority has devised a plan where customers have access to water for at least six hours during a 24-hour period.
He noted that some customers may wonder why times vary when water is available to them and he said this is because CWSA is not always able to maintain their schedules.
"We will continue to explain and we will try as far as possible to let persons know when we are making the changes, but its not always possible and that is because the unpredictability of the demand," the general manager said.
He further added that "When we supply water to a particular area or restrict water to a particular area, we are doing so with an objective and the objective to be able to achieve an increment in storage".
Saunders however is advising that persons try as much as possible to store water on their premises for periods when there is no water.
He noted that this was necessary both because of the drought and the start of the hurricane season, which may be plagued with landslides and flooding once heavy rains start falling.
"The scientists would tell you that after a long drought, when the soil conditions are dry, soil cohesion is less; it doesn't stay together very much, you get cracks and when the rain comes, the water infiltrates these cracks and causes landslides and damage," the general manager explained.
He said this will also affect CWSA as well, whose pipes come from the depths of the forest.
"So we want you to activate your household storage plans. This is a good time," Saunders said.
The CWSA has also issued a water restriction advisory, which restricts persons from using water for non-essential purposes.
These include washing a vehicle with a hose, watering a lawn, hedge, garden farm, ground or recreational field, pressure washing using a hose, watering a roadway, pavement, garage or path, filling a swimming pool, filling a leaking or overflowing storage tank or any other activity requiring considerable or excessive use of water.
Saunders said that anyone found to be wasting water and in violation of water restriction measures will be immediately disconnected.