Posted on
Past SMSS students donate over 100 tablets to help with e-learning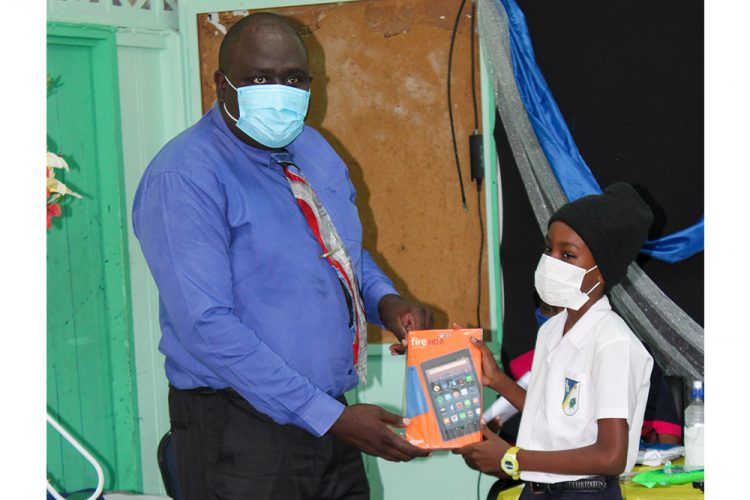 More than 40 past students of the St Martin's Secondary School(SMSS) have joined together to donate over 100 tablets to ensure that all students have access to devices that will facilitate e-learning.
Students all across the country currently engage academic instruction through various online platforms as schools remain closed for most students due to the coronavirus pandemic.
And past students of the SMSS both locally and abroad are ensuring that students at their alma mater are not left behind through the donation of 102 tablets for students who may not have access to one.
"This story is really about St Martin's and each past student here and those abroad represent a seed. And St Martin's just didn't plant a seed, St Martin's Secondary School also nurtured and so in planting those seeds, they were watered, they were nurtured and today, we're experiencing the fruits of those seeds," said Ronnie Daniel, president of the St Martin's Past Students Association (SAMPASA) SVG during a handover ceremony on Monday, May 25.
Daniel said several past students commented in the Alumni group chat with suggestions of how they could help their alma mater in the time of COVID-19.
He said those suggestions blossomed into an idea that will hopefully impact the lives of SMSS students in a meaningful way.
The local president said that the initial idea was to purchase 40 tablets, but that quickly turned into 102.
"The point is this, within a week, we mobilised and exceeded our target and expectations,"Daniel said. "I want to express…the executive's gratitude, those here on the ground to all our past students at home and abroad for their very kind gesture. But again, continuing the story."
Several other members of the local past students association were also present at this week's handover ceremony.
Husband and wife duo, Ulric and Susan Hamlet from the SAMPASA North American Chapter graduated from what is now an all-boys institution in 1986.
They attended the event via Zoom to share some of what went into making the presentation of tablets to the school possible.
Ulric explained that the idea came about after looking at his two sons being involved in school from home because of the pandemic.
It was this that got him thinking of what was happening in SVG.
After doing some research, acting principal, Yohance Gibson and IT teacher, Petrus Gumbs were invited to a meeting on April 16 with the past students to discuss the way forward.
Susan, one of the women who can say that she graduated from the SMSS said that they learned that of the 375 students that attended the school, only 300 had access to devices.
"…so we said as a group, let's get the 75 connected. We weren't sure that we were going to make that goal but we know that with God, we can definitely do that," she said.
She noted that at least 49 past students contributed to making the donation of 102 tablets.
Ivan Morgan, president of the SAMPASA North American chapter also delivered brief remarks via Zoom.
Bishop Gerard County, chairperson of the SMSS Board thanked both arms of the past students association for their generosity.
"In this time of Easter, I always tell my parishioners, try and identify daily in our lives, the presence of the risen Christ so when Mr Gibson spoke to me about this project a few weeks ago, what was being planned, I said to myself very silently, that is a sign of the risen Christ amongst us, working in and through us and I thank God for this opportunity," Bishop County said.
He also thanked the principal, management team and teachers of the school for their dedication and concern for the overall wellbeing of the students.