Posted on
Two persons receive $40,000 grants from the PRYME programme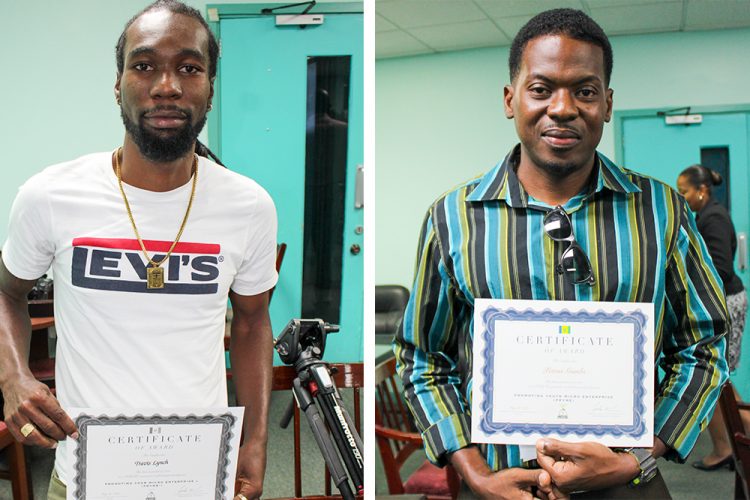 Two persons with technology related micro-enterprises are recipients of grants of $40,000 from the PRYME programme, which made its first payout to over 80 persons this week.
PRYME, which was first announced during the 2020 Budget address, was introduced to fill a gap in existing programmes for entrepreneurs.
And it is being fast tracked as one of the stimulus measures in the face of the economic fallout being experienced as a result of the COVID-19 pandemic.
Representatives from the first batch of 81 recipients received their certificates of award during a ceremony on Tuesday, May 19 at the Ministry of Finance conference room.
"This grant comes just in time for helping to replace some of the damaged equipment that we have, as well as getting new and more advanced equipment for the students to use. So we are very thankful for this grant," Petrus Gumbs, one of the recipients of $40,000 told SEARCHLIGHT.
Gumbs, a teacher at the St Martin's Secondary School is the founder of the STEM SVG summer programme, which serves to engage persons over the age of seven in different areas of learning and training.
Participants engage in robotics, web development, app development, 3D design and printing.
Gumbs noted that when the programme started, they were only teaching one subject area and only had one computer.
"We started about eight years ago with about nine students and now we are housing around 150 students annually…we even have students coming from overseas who decided they wanted to be a part of the programme as well," he said.
Travis Lynch is the second $40,000 recipient in the first batch, money he will use to improve his multimedia production company, Stereo Damage Entertainment.
"It makes me feel accomplished. It's an idea I've been working on…since 2013 so getting this grant is a big push for us as a business," the entrepreneur said on receiving the sizeable grant.
Lynch, who is also known as 'Wizkid' in the soca arena, said that equipment tends to be very expensive for multimedia production and so the grant will be useful in helping to buy much needed equipment.
Over $600,000 in grant funding was disbursed to the first batch of 81 micro-enterprise owners, with individual grants ranging from $2,500 to $40,000.
PRYME, which was initially intended for persons between 18 and 40, now has other components, PRYME Plus — for persons over 40 years old — and entrepreneurs in the creative industry, which has been affected due to the coronavirus pandemic.
Finance minister Camillo Gonsalves noted that the budget for the programme has since increased from $2 million to roughly $4.85 million.
"The PRYME programme fully intends to exhaust the $4.85 million that the government has granted them this year which means that for every month between now and the end of the year, we're going to be giving out again another 600,000 plus dollars on average…" he said.
The finance minister therefore encouraged persons who have a business idea or a business to apply to the programme.
Gonsalves said the majority of recipients so far have been to persons in the agricultural sector but he noted that there are many other business areas that are benefitting from the grants.
This country's agriculture minister, Saboto Caesar also has ministerial responsibility for industry and labour and he was present at Tuesday's ceremony to deliver brief remarks.
Tony Regisford, the chairman of the PRYME Steering Committee also addressed the gathering.
Prime Minister Dr Ralph Gonsalves was also in attendance and he presented an extensive speech on his government's overall policy for economic growth and development.
With regard to PRYME, the prime minister cautioned recipients on wasting the opportunity given to them through the programme.
"I want to urge all of you who get this money, to use the money wisely. When we give you a grant, we are saying that we have confidence in you that you will make something of it," Gonsalves said.
The prime minister added: "if you blow the money, you're blowing an opportunity. This is a serious business…"
He thanked persons for signing on to the programme and expressed confidence that there will be successful ventures emerging through PRYME.
Application forms for PRYME are currently available online (http://finance.gov.vc/finance/index.php/pryme), or at the Chamber of Industry and Commerce, InvestSVG, the Centre for Enterprise Development, the ministry of economic planning, and the Office of the Prime Minister.