Posted on
Hundreds turn out for Soca Jones homecoming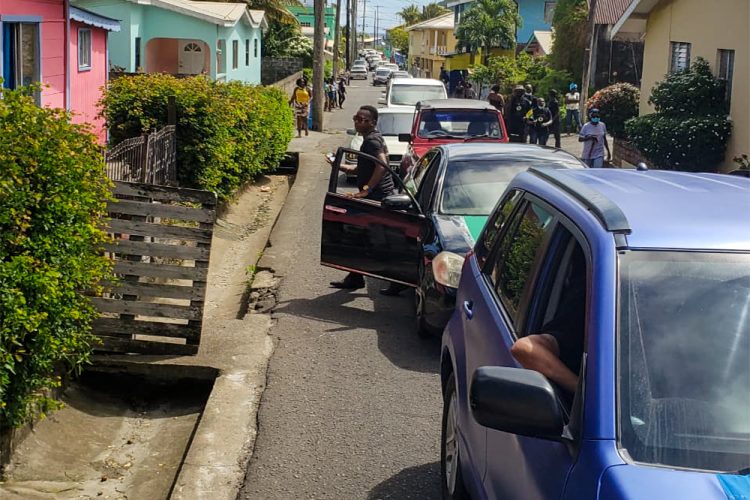 On Wednesday, hundreds of persons came out to pay final respects to Vincentian promoter Brentford Ulric Jones Jr, more popularly known as 'Soca' who died in New York on Friday, May 8 after a short battle with pancreatic cancer. He was 53 years old.
The body, which was shipped from New York was taken on a motorcade from the Argyle International Airport (AIA) to Soca Jones's hometown of Calliaqua.
In Calliaqua, parents of the deceased, retired Anglican priest Ulric Jones Snr and retired teacher Marilyn Jones requested that the casket carrying their son be brought into their home, the very place that the deceased was born.
After the visit to his hometown, Jones' body was driven to Heritage Square, then to the Victoria Park and eventually to the New Haven Funeral Home in Mesopotamia. The body will remain at the funeral home until relatives of the deceased are able to travel.
Organizer of the motorcade Rondy "Luta" McIntosh, one of Jones's long-time friends said the initiative was a success.
"There were hundreds of persons and quite a number of vehicles. The police accommodated us so I would like to say so much thanks to them," McIntosh said while noting that the AIA must be thanked also as the management gave permission to assemble at the air cargo car park.
McIntosh also noted that music was played by New Haven's band when Jones' body arrived in Mesopotamia (the town where he grew up) for the viewing and he is also grateful for that.
"He was in my opinion the most patriotic Vincentian that we had in the Diaspora and I think a welcome home for his remains was fitting for someone who did so much for culture," McIntosh told SEARCHLIGHT on Thursday.
Wednesday's event was a natural follow-on to an impressive send off held last Saturday in New York, when dozens of Vincentians accompanied the hearse carrying Jones' mortal remains in a motorcade through the streets of Brooklyn to the Amerijet warehouse in Queens, from where the body was shipped to St Vincent.
Jones spent the last 33 years of his life as a resident of New York.
Jones was vice chairman of the annual Vincy Day event held annually on the third Saturday in August, at Heckscher State Park in East Islip, Long Island. He has been credited with playing an integral role in its creation.
He is well known for his legendary boat rides and the parties he hosted on Labour Day and also his promotion of Vincentian events and entertainers.
Jones is said to have known every Vincentian business place and businessperson in New York and would make it his business to make sure the community supported them. He would hold events at these establishments to make sure they got a good start.
In addition to his parents, Jones is survived by two children – Yolanda and Jamar, his sister Sharon, brother Eneka and many others.