Posted on
Family mourns loss of slain loved one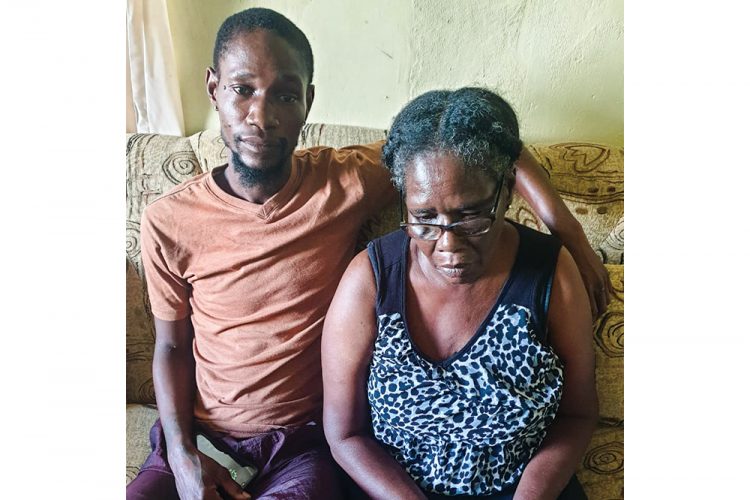 Family members of Ohrma Jummo Dallaway say he is the last person they would have expected to be murdered.
Ohrma, 40, a labourer of New Montrose, was found dead shortly after midnight on Saturday, May 16, on a plot of land opposite the Faith Temple Church at New Montrose. He was making his way home.
He had a gunshot wound to the chest and was pronounced dead on the scene by the District Medical Officer (DMO).
And according to Ohrma's mother, Lizarose Dallaway, no one has the right to take another's life because they may think that person is not living up to their standards.
Lizarose said that while she has no idea why her son was shot and she does not know who killed him, she knows certain things were said about her son's lifestyle, but everyone has the right to decide how they want to live.
"Every person have him and her own way and we are not perfect people and regardless, Ohrma should not have died that way.
"Everybody choose their life to live and regardless…it ain't add up to just look at man and take his life," Lizarose told SEARCHLIGHT from the living room of her New Montrose home on Tuesday.
"The Bible say all have sinned and come short of the glory of God. All have sinned. We are sinners in the sight of God," the bereaved mother repeated.
She said her son, who worked at the St Mary's Roman Catholic School (SMRC) and the RC Church's soup kitchen was a good man who was very caring.
Lizarose was at home on Saturday morning at around 1 o'clock when she heard that her son had been killed. She said she and another son, Nicholas, went to the Faith Temple Church where she saw her son dead in a pool of blood.
"We were very close; of my four sons, he was the best one to me and I know the others might be feeling a little jealous, but they would know why I said that.
"He was nice to me. I can't complain about him," Lizarose said of the second of her four sons.
She said she is saddened by his death and she is hoping that police investigations turn up the culprit or culprits so that justice can be served.
Lizarose said also that she believes items including money may have been removed from her son's person by the person/persons who killed him.
She said her son was a Christian who attended the RC church, and this is the first time the family is experiencing anything like this.
Ohrma's brother Nicholas said it is heart wrenching the way his sibling was killed.
"He didn't deserve that kind of death. He don't interfere with nobody. He was a calm fellow. He don't trouble nobody and if they tell him anything, he would just go his way.
"I can't understand it," Nicholas lamented.
The police are soliciting information from the public that will assist with Ohrma's murder investigation.
Persons with info can contact the Assistant Commissioner in-charge of Crime at 1784-456-1339 or the Officer in-charge of the Criminal Investigations Department (CID) at 1784-45-61810, or any Police officer/station that you are comfortable with.
All information will be treated confidentially.