Posted on
Efforts redoubled for police officers to be outfitted in protective gear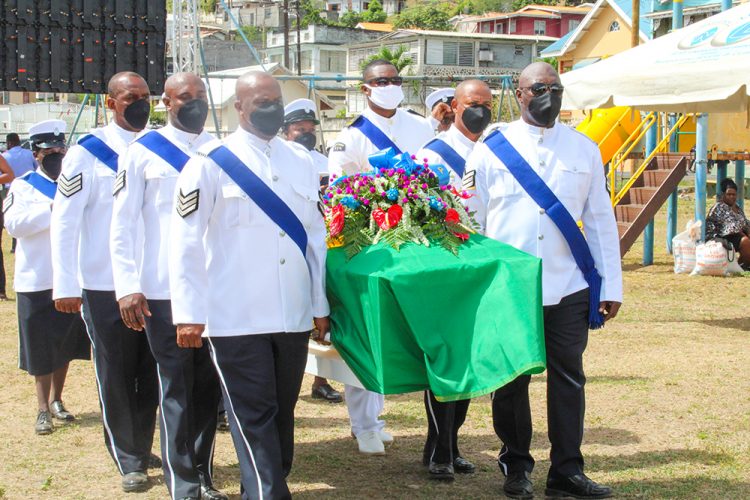 The Caribbean Federation of Police Welfare Associations (CFPWA) has promised to redouble its efforts to ensure that officers in the region are properly outfitted with protective gear.
This follows the death of Vincentian police Sergeant 209 Philbert Chambers, who was shot in the head on Sunday, April 26, while he and a party of police officers were executing a search warrant at the home of one Gleason Lewis.
Police reports say that Lewis opened fire at the police officers, killing Sergeant Chambers on the spot, and wounding Police Constable 700 Verrol Sam. The police responded with their own round of gunfire, and Lewis was also killed on the scene.
A coroner's inquest is expected to be carried out into the matter.
Chambers was said to have been on the frontline on that Sunday morning, and this was why he was in receiving line of fire.
The 30-year-old was laid to rest this Sunday, May 17, and was accorded a full military funeral.
The CFPWA in a tribute at the funeral praised Chambers extensively, listing his attributes as being a "hallmark of welfare", "community minded", never backing down from his duty, noble, and they recognized him as making a "highly commendable" contribution to national security.
The Association indicated that they view "this horrendous attack on these officers as an attack on the entire policing fraternity and we condemn these preposterous acts of violence in the strongest term."
"We will not allow the slaying of our officers to go unnoticed as we redouble our efforts in the advocacy for their proper protective gear for all our officers while on duty," the message continued, as the family members and loved ones of the fallen officer, as well as high ranking officers of the RSVGPF listened.
It is time, they stated, to reevaluate standard operating procedures, with proper risk assessment, and sound tactical advice.
"It is unforgivable to demand that police officers face the criminal elements without protective gears," the Association asserted, adding, "We call on the leaders and Commissioners of the region to engage in this worthwhile investment to ensure that the loss of the life of a police officer is not due to administrative failures in providing bullet proof vests and other protective gear to our police officers."
They have promised not to "retreat of surrender" until officers are "properly outfitted".
As the coffin of the late Sergeant lay open a few metres away, and as persons from the public viewed the body of the young officer, the message ended, assuring, "Sergeant Chambers you have paid the ultimate sacrifice in defense of your fellow men and safety of our country. Rest assured we will join the fight and redouble our efforts with the St Vincent Police Welfare Association and others to ensure that the proper equipment is provided and your sacrifice is not taken for granted."