Posted on
Salvation Army distributes 250 packages to the needy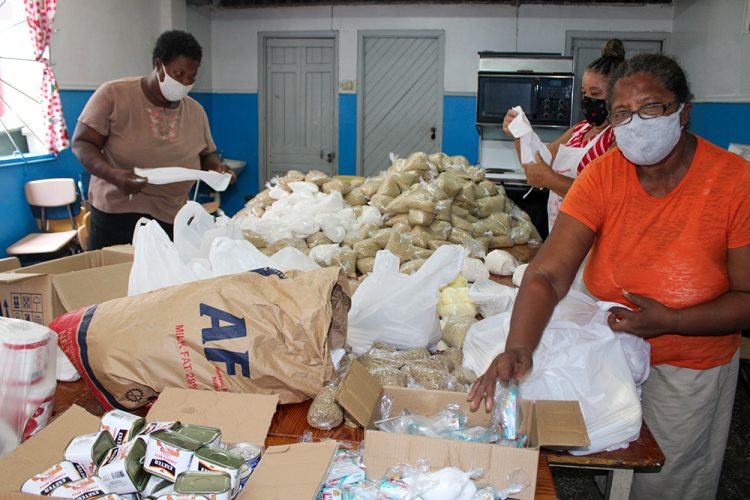 Hundreds of aid packages have been put together by the Salvation Army from donations received from the public, and this week, distribution to needy persons began.
This outcome is a result of the vigorous response from the public to a plea from the Salvation Army's Captain Ernest Gachelin, published in SEARCHLIGHT on April 24, asking persons to make dSaonations at this difficult time.
By Friday, May 8, just two weeks after publication of the plea, the church had amassed enough donations to finally make a dent in offering help to those that seek their assistance.
On April 22, Gachelin had told SEARCHLIGHT that the organization had had to turn away persons who were looking to them for food over the past weeks. This was because, he revealed, the Covid-19 pandemic had been slowing down their mission.
"We don't really have things now, but people keep coming and we give what we had, but no we don't really have and people still coming," Gachelin had disclosed.
Persons were asked to call the Captain at 430-6321 or bring supplies to the Salvation Army's Melville Street location.
The Monday following the publication of that plea, the Captain started receiving calls, and one of the first, if not the first, he recalls, was from the Governor General, Dame Susan Dougan.
Persons and entities such as the Government, also heard the cry for help, and small and big donations were equally welcomed.
Last Friday, the workers at the Salvation Army were putting together the packages, filling them with items such as sugar, flour, soap, corned beef, toilet paper, oil, and matches.
As at press time, the organization had distributed around 250 packages under the Salvation Army St Vincent and the Grenadines' "Covid-19 Rapid Response to the needs of the people", and have very few remaining.
"…The people, the population, they saw the need and they came forward," Gachelin concluded.
"We thank God for the donors and we pray that God will continue to bless them," he stated.
However, the Captain revealed that they are still in need of more donations, "…because no matter the amount we have it's still not enough…because people keep coming every day."
Gachelin asked humanitarians to "Keep calling, keep giving, because it's a worthy cause because at this time people need…especially food. Because people really need."
He explained that there are so many people out of jobs.
Food is what is most necessary, the Captain noted, and advised that those who wish to come on board can make food or monetary donations.