Posted on
Drought condition creating a vulnerability within SVG's food security – Minister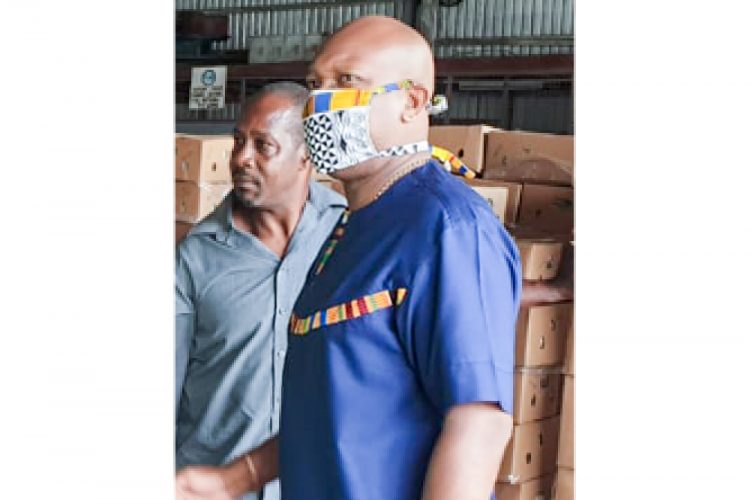 While St Vincent and the Grenadines (SVG) is food secured, a vulnerability is appearing due to an extended period of drought.
Minister of Agriculture, Forestry and Fisheries, Saboto Caesar revealed this while speaking on the WE FM on May 10.
The Ministry has formulated a Covid-19 Food Security and Impact Mitigation Plan in the face of possible food scarcities and inflation of prices abroad, due to restrictions in other countries borne from the pandemic.
The plan will intensify the internal production of a number of commodities, he said.
The Minister explained that there would be changes to the existing 'Livestock Revolving Program', which before, saw approximately 200 animals being revolved to different farmers. Now, 2000 sheep and goats are being distributed on the revolving program, and 1000 pigs, and 200 heads of cattle are being "looked at."
Caesar also said while SVG is food secure, a certain vulnerability is arising.
"However we have seen a vulnerability showing its face because of the extended drought that we are in," he added.
Caesar stated that persons may have noticed that the country is very dry, which is having a "significant negative impact" on production.
Commenting on changes concerning import and export, the agriculture minister noted that "a lot" of islands close to St Vincent have closed down "even production in some instances", because persons are not able to move around.
He mentioned that "Because they did that, their exports to their traditional markets dried up, so they stopped exporting," also adding that he is not making any assertions as to whether or not this should or should not have been done.
In SVG's case, "We kept our ports open and we told our farmers to follow the protocols being advised by the Ministry of Health," Caesar stated.
In terms of exporting, "from a Government standpoint we ensured that all the doors were opened with Barbados with Trinidad and Tobago, St Kitts and Nevis, Antigua, the British Virgin Islands (BVI)."
Even in the cases of shut down for countries listed, St Vincent and the Grenadines is still managing to export to these countries, the minister revealed, through following the requirements that those countries put in place.
"One requirement that they asked for is that when the vessel comes to their country the crew cannot disembark and only the goods can come off and that before the goods leave St Vincent and the Grenadines, a manifest must go up so that they can have a pre-clearance," Caesar explained.
However, the traffickers who were in the habit of flying to those countries could no longer go there themselves, "so a lot of work and negotiation building on a history of trust over the years because you now have to send your goods to Trinidad and Tobago and the purchaser has to clear it," the minister revised.
He reiterated that they may be a chance to build on the positives post Covid-19.
"We have now seen for the first time that a trafficker doesn't have to go to Trinidad every week, and that the process can go on," he stated, and so whether they will continue to travel every week following the pandemic remains to be seen.
In the end, the minister reiterated once more that SVG is "food secured."