Posted on
Schools could re-open by May 18 – Minister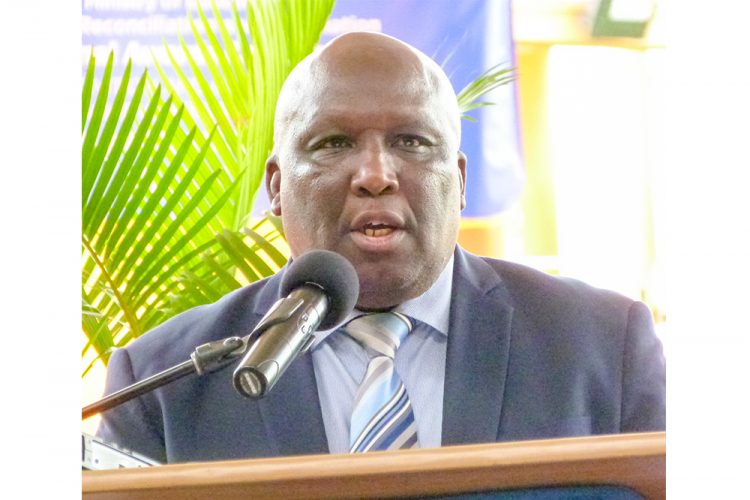 May 18 is the date being proposed by the Ministry of Education for a phased re-opening of schools here in St Vincent and the Grenadines. 
This was revealed by education minister, St Clair Jimmy Prince on Sunday during We FM's 'Issues at Hand' radio programme. 
"…The officials in the Ministry of Education along with the experts in the Ministry of Health set up a kind of tentative, preliminary timeline. We were thinking if we open schools, maybe the 18th of this month or 25th thereabout, preferably the 18th; we might be ready to open schools at that time," Prince said. 
He said however that the date was not cast in stone "because we have to have these things in place to ensure the safest environment for both teachers and students". 
Schools here closed on March 20, one week ahead of the scheduled Easter break as a result of the coronavirus pandemic. Schools have not been reopened since, with the Ministry of Education postponing the re-opening at least twice. 
Prince said on radio that health and safety of students and teachers is paramount and his ministry wants them to be comfortable in the environment, but also for parents to feel confident that their children are in a place where they will be safe. 
"So we are proposing a phased opening; we wouldn't want to open and have everybody in the school. This phased opening being proposed will include only the students who are doing examinations at this point," he said. 
This includes fifth formers in secondary schools, Grade 6 students in primary schools and Technical and Vocational Education and Training (TVET) students. 
The education minister said this particular group of students was earmarked to return to school first because of their need for engagement and revision before attempting external examinations. 
"And I think that is quite obvious. Although they have been doing online work…I've been told by some principals that it's important that teachers reengage these students …to ensure that they have revised properly, that parts of the syllabus that weren't touched be touched. That will take over a month or two," he said. 
Prince added however that there were some principals who say that they have already completed the syllabus at their respective schools and see no need for their students to return to school. 
But Prince said "I don't know if that is so correct, because you'd never have enough time when you're doing an exam…You still would need some engagement with the teachers but that is what it is that we're proposing". 
He also said that students could be spread out more in an entire school to enable physical distancing, which is required by the Ministry of Health and Pan American Health Organisation (PAHO). 
Prince further stated that "we're looking at transportation because you know, we wouldn't want to have children jamming up … in buses coming to school on those mornings. That will be unsafe.
And he revealed that his ministry was looking into specialised transportation and will be speaking to the minister of transport in that regard. 
The education minister noted that his ministry has been talking about cleaning and sanitisation so as to ensure the presence of running waster in schools and accommodation for adequate physical distancing. 
Funds have also been earmarked through the Ministry of Transport and Works to facilitate any works necessary. 
Prince said that discussions were also ongoing with the teachers' union, as well as principals of both secondary and primary schools to determine the best possible time and modality for the re-opening of schools.