Posted on
Royal Caribbean, Gov't agree on terms for return of Vincy crew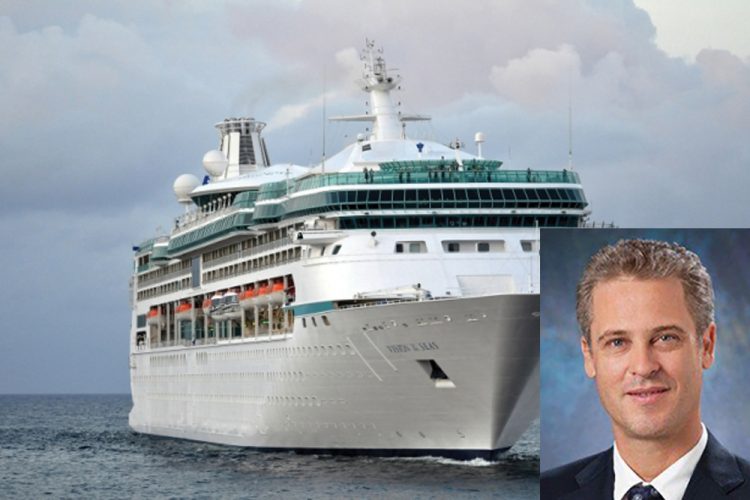 by Bria King
Royal Caribbean Cruise Ltd (RCCL) has come to an agreement with the Government for the repatriation of 400 Vincentian employees later this month.
Captain Hernan Zini, the vice president of Port Operations at RCCL wrote to Bishen John, the CEO of SVG Port Authority and local point person for the repatriation process on May 4 and indicated the cruise line's intention to repatriate the Vincentian sailors via sea.
Zini's letter said that the vessel would arrive on these shores approximately on May 25 and that the company was "proposing that only St Vincent crew members that continue to be asymptomatic will be allowed to disembark".
Local authorities had previously outlined as part of the repatriation protocols, that cruise lines would have to bear a cost of EC$150 per person per day for at least 14 days of quarantine when those sailors arrive.
But RCCL's letter outlined protocols being implemented by the cruise line, which they hoped would result in no additional quarantining being required upon arrival.
"It has been established that a significant number of persons with COVID-19 will be asymptomatic. Additionally, persons may continue to shed the SARS-CoV-2 virus for periods in excess of the average 14 days incubation/disease period," Simone Keizer-Beache, the chief medical officer (CMO) wrote in her letter of response to RCCL. "Indeed both of these occurrences have been experienced in St Vincent and the Grenadines in RCCL Crew Members. It is for this reason that the proposed reliance on symptomatology as the sole indication of being disease free cannot be accepted."
In her letter dated May 4, the CMO also noted the cruise line's intention to merge crew members from various ships for the voyage home.
She further said that this merger would void any quarantine previously completed by crew members.
Keizer-Beache, who is also the chair of the Health Services Subcommittee said that the suggestion that 400 crew members disembark upon arrival after a nine-day voyage was unacceptable, especially since that time is five days short of the minimum 14-day quarantine requirement.
She also noted that there was no indication that a health certificate will be issued by the National Health authority or that any objective tests for COVID-19 have been or will be administered to sailors prior to their arrival.
And she outlined the relevant protocols that must be followed in order for the 400 Vincentian crew members to be appropriately repatriated.
"In view of the estimated number of Vincentian Crew Members to be repatriated, 400, and the existing constraints in the procurement of COVID-19 tests, I strongly recommend that the RCCL provide the tests kits to be administered in St Vincent and the Grenadines at the end of the prescribed quarantine period," Keizer-Beache's letter said.
Prime Minister Dr Ralph Gonsalves told SEARCHLIGHT yesterday, May 7 that Captain Zini responded favourably to the CMO's letter and that both RCCL and the local authorities have agreed to the terms laid out.
Under the agreement, the RCCL vessel is expected to begin its repatriation voyage on May 15 as planned and arrive at Port Kingstown on May 25, with the aim to remain at anchor so as to complete the new 14-day quarantine period.
Once the quarantine period is complete, it is expected that the 400 Vincentian sailors will debark with the proposed guidelines.
Testing will be carried out on the sailors on board on the 11th day of quarantine when the ship is anchored in SVG and the results will be shared with the local health authorities.
After the 14-day quarantine is complete, SEARCHLIGHT understands that any crew member with a negative rapid test will be allowed to go directly home wearing personal protective equipment.
Any crew member with a positive rapid test result and a subsequent negative PCR test will be allowed to go home wearing personal protective equipment.
But any crew member who tests positive via a PCR test will be debarked in a controlled manner wearing appropriate protective equipment and taken to an isolation facility to be determined by local health authorities.
SEARCHLIGHT also understands that RCCL has confirmed that they will cover the cost of any medical expenses and isolation for employees who test positive via a PCR test.