Posted on
Persons can now get help in the comfort of their home with The Valeo Experience app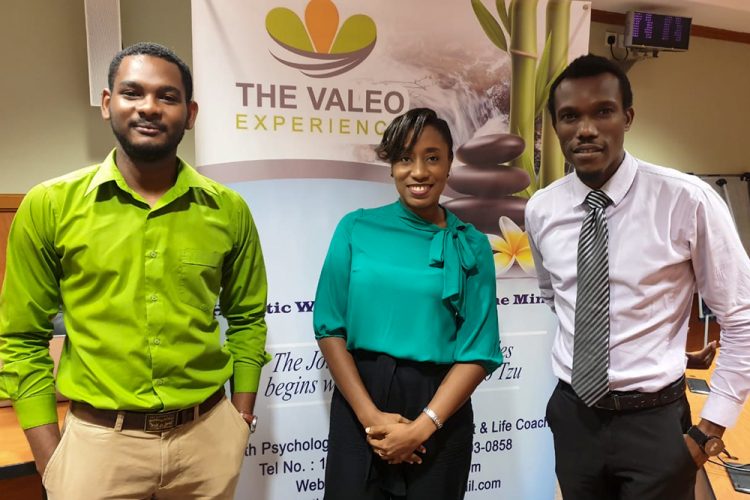 Persons looking to have sessions with a qualified health psychologist can now do so online with the launch of the Valeo Experience's mobile application and web platform.
The Valeo Experience, which promotes holistic wellness, was founded in 2017 by health psychologist Dr Jozelle Miller.
The mobile application and web platform designed by Okana Graham, with technical support from Eben Wilkins, were launched at the National Insurance Services (NIS) conference room on Tuesday.
Speaking at the launch, Wilkins said the app and the web platform could not have come at a more opportune time, seeing that COVID-19 has forced persons to practice social distancing.
"This mobile app and web platform allow you to get the help you need in the comfort of your home," Wilkins said, while adding that the initiative was funded by a Caribbean Regional Communications Infrastructure Program (CARCIP) grant.
Persons who do not wish to go to the Valeo Experience's office at Arnos Vale can go to www.valeoexperience.com or download the mobile application (only available for Android platform).
Wilkins said the main features are booking appointments, making payments online, attending virtual sessions, accessing quick tips and topics, creating appointment reminders, rescheduling appointments and cancelling appointments.
"This virtual space would operate similarly to when you walk into the clinic and you meet Dr. Miller," explained Wilkins who added that the platform is convenient.
Addressing the launch, Miller said she was elated having realized another milestone for the Valeo Experience.
She said it has always been a dream to have a company that caters to the holistic development and well being of others and in 2017 this dream was formalized when she launched her business.
She said that thanks to CARCIP, she is now able to have a mobile app and a website which will enable persons to access virtual sessions, receive psychological tips and experience something, "which will be nothing short of life changing as they engage with the content provided."
Miller said her organization is the sole psychological wellness company in the country and offers, wellness assessments, personality profiling, understanding the "self", self- help sessions, grief therapy, sports psychology, conflict resolution and counselling among other services.
She revealed that soon, she is hoping to have health professionals from overseas available on the app, as one of the main benefits of going virtual is to assist persons who are apprehensive about coming into a clinic space for therapy.