Posted on
Three Vincentians launch new Uber-style app in SVG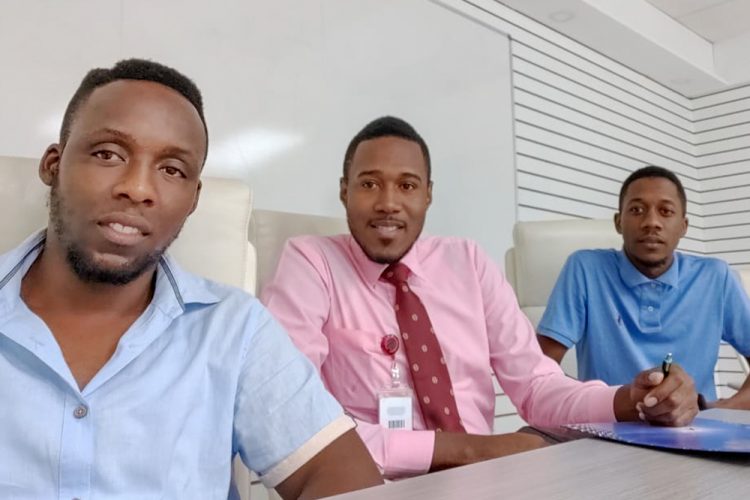 Three Vincentians are on a mission to eliminate transportation woes and boost local nightlife through the launch of a ride-share application, Route SVG.
The three founders, Terry Clarke, Richard Cadougan and Lawrence Bascombe have been working since April 2019 towards developing the Uber-style application and bringing this new service to St Vincent and the Grenadines.
And one year later, the service is officially live, with the app being available both in the PlayStore and App Store.
"Last year, Richard and I sat down and realised that the transportation in St Vincent can sometimes be frustrating, very ineffective and unreliable," co-founder, Terry Clarke told SEARCHLIGHT last week. "Persons wanted a more convenient way, but cheap. We also realise that social life and transportation works hand in hand. You find less people going out because they can't find the means to go back home."
Clarke noted that there are usually crowds of people at bus stops at 6 pm, rushing for transportation to get home because most public transportation is usually off the roads by 8 pm.
And he said he and his colleagues thought it necessary to bring this ride-sharing service to SVG to supplement transportation and nightlife.
"That's the culture we're trying to break. We're trying to supplement it so that people know that they can go out and Route is here, they can book a ride with Route instantly," the co-founder said.
This venture is not one that the trio took lightly, as they completed a small survey sometime last year, which helped to confirm their belief and their company's viability in this developing market in the Caribbean.
Much like Uber and Lyft in the United States, Route SVG will connect riders with drivers through the application.
Once the rider enters where they are located and where they want to go, a driver who is in the vicinity will receive a notification and when the driver accepts, they will move to pick up and drop them off the rider at their destination.
And Clarke said that drivers will be available to go anywhere in St Vincent.
Safety and trust is also something that these entrepreneurs take seriously.
Clarke told SEARCHLIGHT that their application has a safety function which allows users to enter three numbers — the police and two emergency contacts.
If a customer encounters danger, they can tap the SOS button and it will call each of the three numbers.
"Once we identify a situation, we have a policy where we tell them [customers] to let us know, whether its sexual harassment, robbery, let us know. We will not be tolerating any of that," he said.
Clarke added; "we, on our backend, we can tell exactly where the drivers are, where the customer is, which driver has which customer, the time and exact GPS location. So it's not a case where we won't know and we're not tolerating anything that will hurt any of our Route family".
The co-founder said that 32 drivers have been vetted so far to offer services with Route SVG and that vetting was an ongoing process.
Drivers who are interested must submit mandatory documents including a police record, vehicle license and registration and a copy of insurance via the 'Route Driver' application before they can be approved.
According to Clarke, what makes Route SVG different than a taxi service is the convenience of the service.
"The difference is the seamlessness of it. You enter your destination, you enter your pick-up and you will get an estimate…sometimes if a taxi man is on the road late, they tend to increase the fee. Route has no discretionary fee," he said.
He added that everyone may not always have a taxi operator's contact saved in their phone. Clarke said Route SVG takes away this hassle, especially since riders can also communicate with drivers via text in the application.
He did note however, that data or wifi connection is necessary to operate Route SVG's application.
For more information on Route SVG, persons can visit the website, routesvg.com.