Posted on
SVG's food exports will not create local shortage – Minister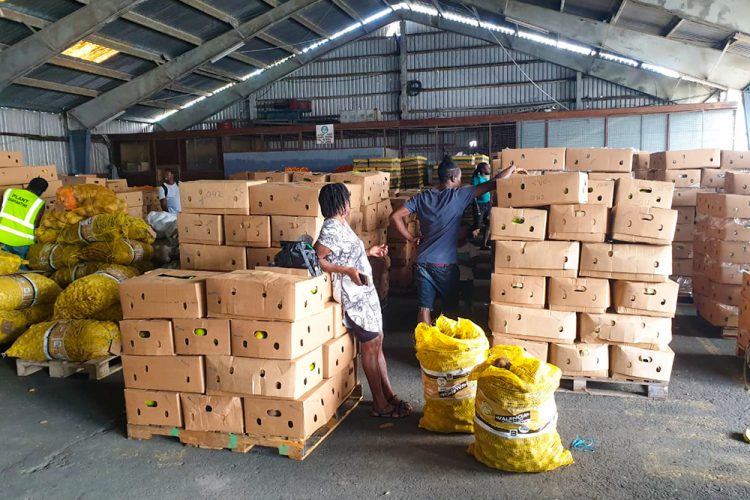 The exportation of food from St Vincent and the Grenadines (SVG) is not done in a haphazard manner that can create a local shortage.
"We are not sending away all our food. The food we export, we have statistics that show those allocations were actually grown for export so even with the export, we have far more food in St Vincent and the Grenadines than we can consume," Minister of Agriculture and Fisheries Saboto Caesar told SEARCHLIGHT recently.
Caesar, agriculture minister since 2011, said he is happy that SVG has been able to respond to the food demand in the region amidst the chaos being caused by COVID-19.
"We are doing an excellent job," Caesar said, while adding that government has released a $12 million stimulus package for agriculture.
"…And in that we are going to see an exponential increase in food production in 2020 and 2021, so I want to allay the fears of those persons who think that we are exporting all the food," Caesar said.
He said the Ministry is happy to see food exports and he is hoping that even more food can be sent abroad.
"We need to export more because those countries that are not exporting currently, their farmers don't have an income and they have to address the issue of income support for their farmers.
"In SVG, the situation is different. We have enough food to export so that our farmers can remain economically active and because of that the rural economy is fully intact and there are persons who are still purchasing as normal," the minister said.
He is of the belief that over the next seven months, there will be greater demand for food from SVG because some overseas food producers are closing.
"I want to encourage young persons especially persons in the tourism and hospitality sector to come in to the farmers support company, bring your information and let us see how you can play a critical role in getting finance from the stimulus package so that you can become functional in the agricultural sector," Caesar suggested.
He noted also that every household has a role to play in producing food and stressed that many persons are able to grow produce in a backyard garden, even in urban areas.
Caesar said the ministry will be helping homeowners to start backyard gardens as they are encouraging persons to eat more of what they grow, while the CARICOM and OECS secretariats are working on a platform to facilitate more interregional trade between the member states.
He said there are point persons to provide information on each state as it relates to excess and deficits in produce.
"SVG is a food secured country. When you look through the length and breadth of this country, we have a very diversified production platform and as you can see, we have a lot of root crops, bananas, plantains…being exported," Caesar commented.