Posted on
Gov't no knee-jerk reaction should be commended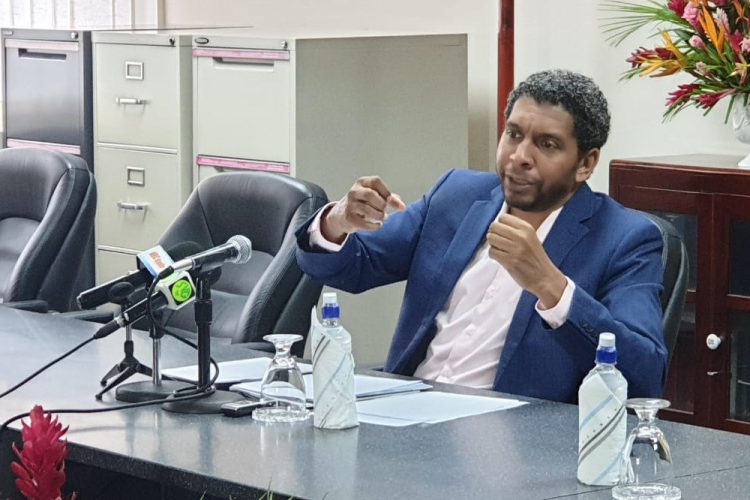 The Government of St Vincent and the Grenadines (SVG) should be commended for not having a knee-jerk reaction to the presence of COVID-19 here.
So said minister of finance Camillo Gonsalves, while speaking at Cabinet Room yesterday.
The minister said in the region, two sets of numbers are coming out of the various countries, one pointing to the financial impact of the pandemic, and the other to infection numbers.
He said SVG has not completely shut down like other countries, but observation shows that our COVID-19 infection numbers are not significantly higher than any other country.
Also, while our economy has been affected, the economies of other countries in the region have been more drastically affected.
"The complete lockdown has not appeared to have changed the infection numbers significantly from one country to the next in the region," Gonsalves said.
He added that COVID-19 is shrinking world economies and, in the United States, the economy, for the last quarter, declined by 4.8 per cent and ended the longest period of economic growth in that country.
He said COVID-19 spread in January and February in the US was normal and things only started tightening in April.
"So, if April alone shrunk the economy, it sends an unsettling signal of where the world's economy is going.
"Unemployment [in the US] now exceeds 15% and it was 4% at the beginning of the year. So, it tripled, and the prediction is that in the next quarter the US economy will contract by double digits and these things have a knock-on effect on the regional economies," Gonsalves said.
The Finance Minister added also that the Economic Commission for Latin America and the Caribbean (ECLAC) is predicting that Caribbean economies will contract by about 6% while the Eastern Caribbean Central Bank (ECCB) has revised their numbers to suggest the Eastern Caribbean (EC) economies will shrink by 16%.
Gonsalves said that 16% is the largest contraction in the regional economy in recorded history, but noted that the prediction for SVG is not as severe, around 11%, because we are not as dependent on tourism as other countries.
He reiterated that these are troubling times as the numbers point to increasing economic issues as a result of the COVID-19 pandemic.
The Finance Minister said bailout packages must therefore be delivered as efficiently as possible to help alleviate the difficulties that people are facing.