Posted on
Government rolls out COVID-19 stimulus package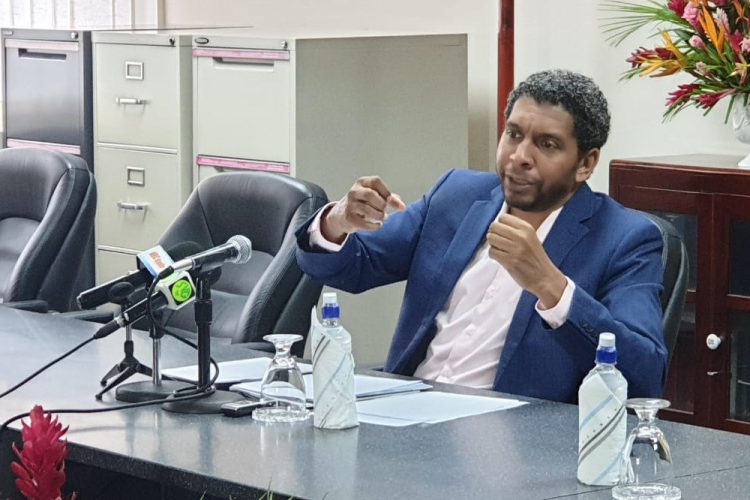 The Government's COVID-19 stimulus package is four per cent of the country's Gross Domestic Product (GDP) and provides an unemployment benefit under the National Insurance Services (NIS), income support for minibus operators, a displacement supplementary income for persons in the hospitality sector and an interim assistance benefit for vulnerable persons, among other measures.
On Wednesday at Cabinet Room, Minister of Finance Camillo Gonsalves listed the various packages being offered by Government in response to the economic fallout from COVID-19.
Addressing the unemployment benefit from the NIS, Gonsalves said if a person was laid off after March 1, which suggests that the layoff was COVID-19 related, and if that person paid NIS, that person is eligible for EC$300 a month.
He said this is the first time the NIS is offering this benefit and interested persons should go to the NIS's website to download the application form or to the office at Upper Bay Street.
The finance minister said payments have already begun and as at Friday April 24, 975 persons had applied, with 30 per cent coming from the hospitality sector and 139 from the education sector.
Gonsalves said applicants in the education sector represent teachers at many of the nation's preschools, while there are significant numbers from the construction sector as well as farmers.
He said these numbers are expected to increase beyond the 2000 claims that the NIS had initially been expecting as correspondence has been received from 123 employers who employ about 1200 persons.
Gonsalves said these employers are saying they are closed or in the process of scaling back significantly and employees will be expected to apply for a piece of the EC$2 million set aside by the NIS to fund this benefit.
The displacement supplementary income provides for persons in the hospitality sector and is also a EC$300 a month payment.
This payment is open to people in the hospitality sector, (hotel and restaurant workers, tour guides, dive shops), whether or not they have ever paid NIS.
The next pot of assistance discussed by Gonsalves is the interim assistance benefit, which is available to vulnerable persons who have been affected by COVID-19 and is meant to be an add-on to what is traditionally called "poor relief".
The Minister said that one does not have to be a senior citizen to benefit, but one must establish that one is vulnerable and that one's vulnerability has been exacerbated by the pandemic.
"Maybe you say you had somebody used to send remittance and they laid off and can't do it; a family member is now unemployed so can't help anymore or you are elderly and vulnerable and not captured under the social benefit program and now it is worse…," Gonsalves explained.
Beneficiaries under this program will receive EC$200 a month for the rest of the year and applications can be made at the Ministry of National Mobilization where the traditional social assistance benefit comes from.
"If you are vulnerable go and explain the situation at the ministry and have them evaluate. You can't be disqualified by age or [if] people have job in the household. The ministry will process the claim," Gonsalves stated.
He said that vulnerable people also include vendors registered with the Kingstown Board. The 600 registered vendors are eligible for EC$200 a month for three months in the first instance.
"If you are registered with town board, apply at town board starting from Monday," Gonsalves said.
Support is also being given to the minivan operators. About 400 minivans have registered for this support through the Ministry of Transport and Works and will get between EC$450 and EC$500 dollars a month for two months according to the number of seats (18 or 26) that the van has.
Also, taxi drivers and those who operate tour buses and are registered with the Ministry of Tourism will get assistance through that ministry. The big bus owners will get a one-off payment of EC$2000 and taxi men will receive a EC$500 one off payment. Water taxi operators will also receive financial support.
Also noted by Gonsalves is that the Ministry of Tourism and Culture will pay income support to cultural and creative artistes.
He said that the Bequia Easter Regatta, Easterval and Carnival have been cancelled and as a result, Government will provide support for persons like disc jockeys, singers and entertainers who benefit from these events.
These persons may apply from next Monday at the Ministry of Tourism which has EC$350,000 to fund this venture. The evaluation of how much money persons will get will be made by the ministry.
Another benefit comes through the PRYME programme from which cultural and creative artistes can ask for help to retool or revamp their businesses. Youth entrepreneurs (Under 40) and persons over the age of 40 can also get help through PRYME.
"We anticipate that the stimulus packages will reach about 13 per cent to 15 per cent of Vincentians and that is not counting people who get the six-month support on their loans," Gonsalves said.
The money for the stimulus package is funded by the government's Supplementary Appropriation Bill which was passed in Parliament in March.