Posted on
We have had to turn away people – Salvation Army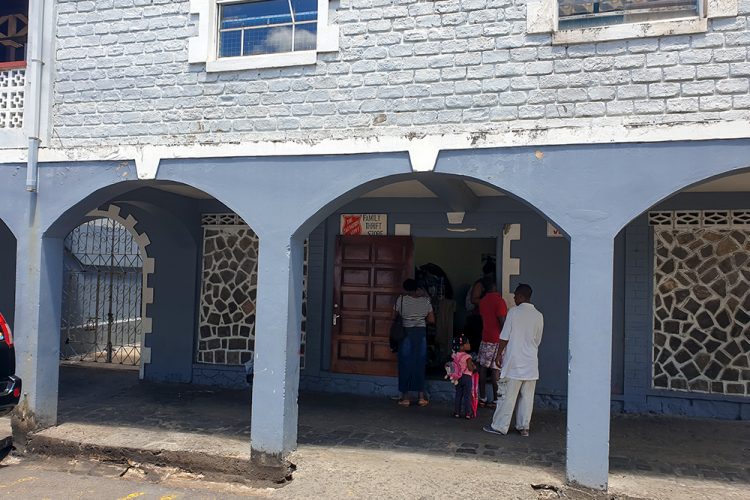 The Salvation Army has over the past few weeks, had to turn away persons who were looking to the organization for food.
And as a result, Captain Ernest Gachelin is calling on businesses and individuals to donate whatever they can to the organization.
Speaking to SEARCHLIGHT on Wednesday from the organization's Melville Street location, captain Gachelin said the COVID-19 pandemic has slowed down the Salvation Army's mission.
"We are always on the frontline and persons always expect to get something, but it is not all the time we have.
"Especially at this time, we don't really have things now, but people keep coming and we give what we had, but no we don't really have and people still coming," Captain Gachelin said.
The organization also provides clothing, but the captain said that most requests are for food.
He said the Salvation Army normally receives donations from businesses and other entities but since school closed last month, some of the donations have dried up.
Captain Gachelin also noted that they operate a private daycare and pre-school and depend on the income from this venture to pay workers, but since the school closed on March 20, no funds are being generated, so they are unable to pay.
He said the government assists in feeding students, but since school closed, there is no food.
Captain Gachelin also reminded that the Salvation Army also cares for 10 children who live at their home in Buccament.
He said that persons willing to donate should call him at 430-6321 or take the supplies to their Melville Street location.
"I encourage people to stay safe, use the mask, and what is important as well is distance and some people not doing that and that is bad.
"If we don't distance our self, it is easy to get it (COVID-19) and I notice some the bus drivers are overloading still, so I will encourage persons to do what the health authorities tell you," the Salvation Army head said.
He also encouraged persons to use this moment to serve God.
"It is not a time to play now because this pandemic is everybody's business," he stressed.
The Salvation Army's church services have also been suspended and are now conducted online on Sundays. Prayer meetings and bible studies are also being done online.