Posted on
Students in Taiwan provide assistance to less fortunate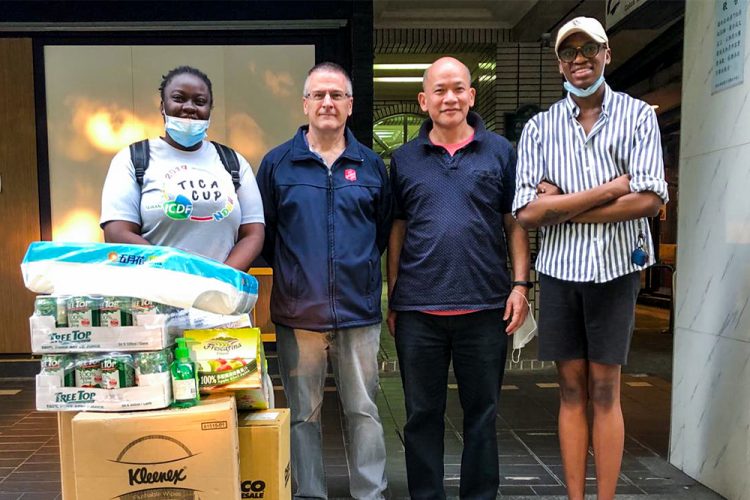 As part of the fight against coronavirus (COVID-19), Vincentian student Chanolde Munroe and classmates held a charity drive in Taipei, Taiwan.
And, on Tuesday, April 14, they donated a number of items including canned foods, packed soup noodles, canned juice, napkins, soap, hand sanitizer, toilet tissue and antibacterial soap to the Salvation Army in Taipei.
Munroe and her classmates Thandwa Mndzebele and Tenduma Shongwe, after reading about countries scrambling to protect and help their homeless, saw the need to do something to help persons in their "home away from home".
"Taiwan always gives to everyone, especially during this pandemic, and we just wanted to help out the underprivileged in a place that has become our second home," Munroe said.
The charity drive was held for three weeks at the Ming Chuan University Taipei campus with a major donation from the Embassy of St Vincent and the Grenadines ROC, Taiwan.
"We are so appreciative of the donation from the Embassy, roughly 70 per cent of the items donated were from the Embassy's donation," Mndzebele noted.
Ambassador of St Vincent and the Grenadines to Taiwan Andrea Bowman said that the Embassy welcomed the opportunity to contribute to the "thoughtful and timely" initiative.
"The menace and disruption caused by COVID-19 has shown us that in our physical distancing we are all emotionally and humanly bonded. We trust that our small donation would contribute to the recipients' ability to cope in these extremely challenging times," Bowman said.
At the handing over ceremony, Major David Kinsey expressed his appreciation for the donation.
Kinsey explained that since the COVID-19 pandemic more persons than usual have been received at the homeless center, despite the low number of COVID-19 cases on the island.
He explained that at the homeless center there is a work program where persons would train to become cooks, however, since the COVID-19 pandemic many places have stopped hiring.
"Because of COVID, at the moment they are not able to do that because the government said no, but we are still feeding them, and the way we do it now, we are giving them boxes to take away," Major Kinsey said.