Posted on
SVDL donates hand sanitisers to nation's first responders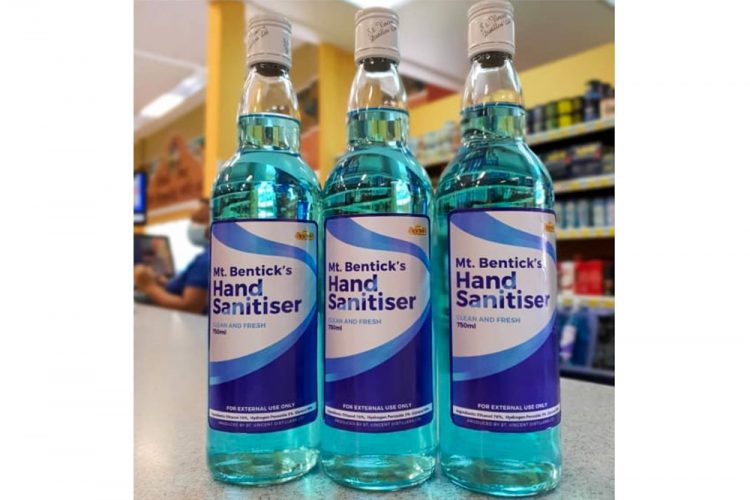 One hundred and fifty six bottles of the new Mt Bentick's Hand Sanitiser, made by St Vincent Distillers Ltd (SVDL) to help the country during the COVID-19 pandemic, have been donated to the police, the hospitals and multiple clinics.
On April 9, 13 cases of the product, packaged in 750ml bottles, and made to the specifications of the World Health Organization (WHO) were delivered to the Byrea, Colonarie, Park Hill, South Rivers, Biabou, Fancy, Owia, Sandy Bay and Overland clinics.
First responders at the Georgetown Police Station, Georgetown Hospital and Diagnostic Clinics, and the Milton Cato Memorial also received the sanitiser from SVDL's Brand Manager, Somorie Marksman.
The sanitizer contains 76% ethanol as a disinfectant, 3% hydrogen peroxide, to prevent contamination; and 98% glycerol (commonly known as glycerin).
The product, retailed at $18.50 a bottle was also released on the shelves of CK Greaves Supermarkets, and have already sold out.
SVDL's export/promotions manager, Phillippa Greaves in an interview with SEARCHLIGHT on April 14 spoke about the company's move to exercise its "corporate responsibility" in producing the now essential product.
"It was something that we saw a need of. Because everybody was complaining that they were not getting sanitizer, and being we had the alcohol, we went straight into helping out there," Greaves explained.
Further, they are also aware that distilleries around the region are also helping in this aspect, she noted.
"…Because the base product is alcohol and we are the sole distillery on the island, we decided to jump in and to make, to help the community out, because sanitising your hands is so important to help combat this COVID-19," Greaves stated.
However, SVDL received their stock of glycerin used to make the sanitizer from local pharmacies, who are now out of stock. Therefore, the Distillery is awaiting a shipment from Miami with more glycerin in order to continue to produce Mt Bentick Sanitiser.
It is estimated that it will be two weeks before another batch of sanitisers will be produced.
The first batch of sanitizers were sold only at CK Greaves supermarkets, but SVDL indicated that when they are able to increase their production, the product will be offered to the other supermarkets.