Posted on
DPP makes the call for a strong signal to be sent in domestic violence cases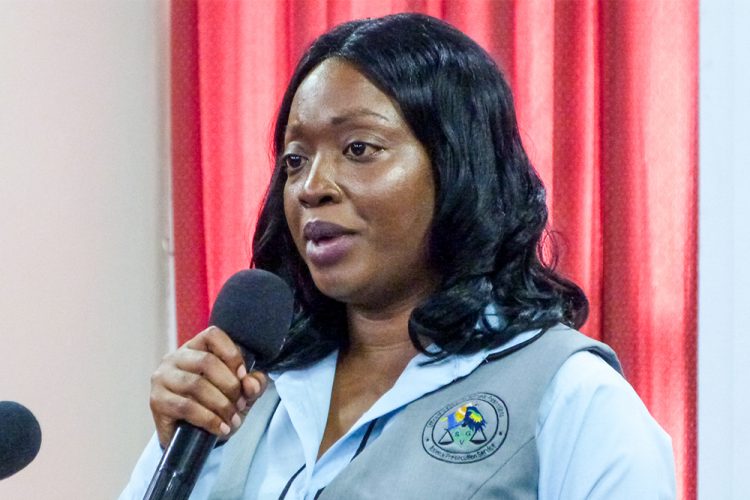 THE DIRECTOR of Public Prosecutions (DPP) Sejilla McDowall has made the call for a strong signal to be sent in domestic violence cases, and that they attract higher penalties.
McDowall made these comments at the High Court on Friday, March 27, during the sentencing of Lionel Hoyte, who stabbed his common law wife to death in 2013.
Hoyte, a former policeman who served in the Royal St Vincent and the Grenadines Police Force for 12 years, had pleaded guilty to murdering his 12-year common law wife, Helen Fox.
Fox, a 36-year-old employee of Swiftpac, was stabbed 17 times in her face and neck by Hoyte on April 29, 2013, and the act was witnessed by their sons (three and eight years old at the time). The boys tried to help their mother by stopping the blood flow with a bed sheet and paper tissue but were unsuccessful.
McDowall remarked that "the crown would not belabour the point about the court needing to send a strong signal in domestic violence cases."
"We would still insist that these cases should attract a higher penalty, not because of what went on earlier this year, but because globally, domestically, regionally it must be given some prominence and reflect appropriately in a higher sentencing bracket," she continued.
In mentioning incidents that happened earlier this year, the DPP seemed to be referring to two prominent cases that shook the Vincentian public, which involved the killing of two women by their male partners.
The first of these women is Arianna Taylor who was gunned down on the compound of the St Martin's Secondary School, while she was picking up her son, on the afternoon of January 30, 2020. The Cuban born nurse later succumbed to her wounds, which were allegedly inflicted by her husband Mitchell 'Mitch' Israel.
Secondly, 26-year-old Mickeisha Gumbs was stabbed to death in the presence of two of her children on March 7.
Gumbs' family wants justice to be served, and they may receive it, as police have made an arrest in the case, and charged Gumbs' fiveyear boyfriend Vandyke "Dez" King with her murder.
The DPP also made the point that while the courts in the region have worked with a 30-year imprisonment benchmark for offences, the crown believes "because of the increase in violent crimes that result in fatalities, that we have to start looking at raising that traditional benchmark from 30 years."
"Forty years will soon be a consideration for this court to apply more consistently," McDowall noted.
Sentencing Judge, Brian Cottle also touched on the subject before arriving at a sentence of 22 years imprisonment for Hoyte.
The judge considered a number of things, including that such offences were prevalent in St Vincent and the Grenadines.
Cottle stated that although no evidence was led as to "this type of domestic violence meted out to females by male partners in St Vincent and the Grenadines," "this court cannot be wilfully blind to the pattern and frequency of cases involving this type of violence, which come before this court."