Posted on
The Ministry of Health receives much needed equipment donated by Taiwan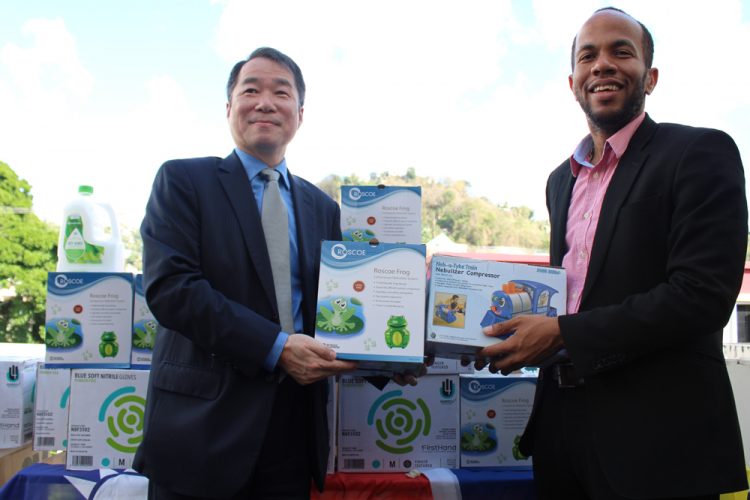 The Ministry of Health, Wellness and the Environment has received much needed equipment to help their efforts in the fight against COVID-19. 
The Republic of China on Taiwan donated various items to the Ministry this week, including gloves, masks, hand soap, respirators and nebulisers. 
Luke Browne, the health minister expressed his gratitude to the country for their continued support, particularly at this time. 
"We've already entered into a discussion on some of the initiatives that we can participate in together in the future and some proposals have been made to the ambassador," he said.
 
Browne said that the ministry was stocking up supplies and sending the message that work is ongoing to ensure that this country has what it needs to respond at every level. 
The minister said the country is in a state of continuous preparation and is remaining vigilant as they continue to manage the situation for best results. 
Browne noted that SVG's relationship with Taiwan is multi-dimensional, part of which has been preparing from several different angles to deal with whatever challenges arise as a result of COVID-19. 
"To me it's just a token, one small step. We will continue to work with our colleagues here in the government," Calvin Ho, the ambassador of the Republic of China on Taiwan said at the small handover ceremony. 
He said that the "most important thing is that today, we are here to hand over some medical supplies. These supplies are for frontline medical personnel to protect them so we have a cleaner environment for them to work and also to protect our nationals coming in and out of the airport and other public places". 
Ho stressed the importance of working together, particularly as COVID-19 can be considered a disease without borders. 
He said that working together will make it easier to safeguard the lives of people all over the world. 
And the ambassador expressed gratitude to SVG, which has played a significant role in advocating for Taiwan to be a part of the World Health Organisation and World Health Assembly.