Posted on
SVGEF supports farmers and fishers efforts to fight COVID-19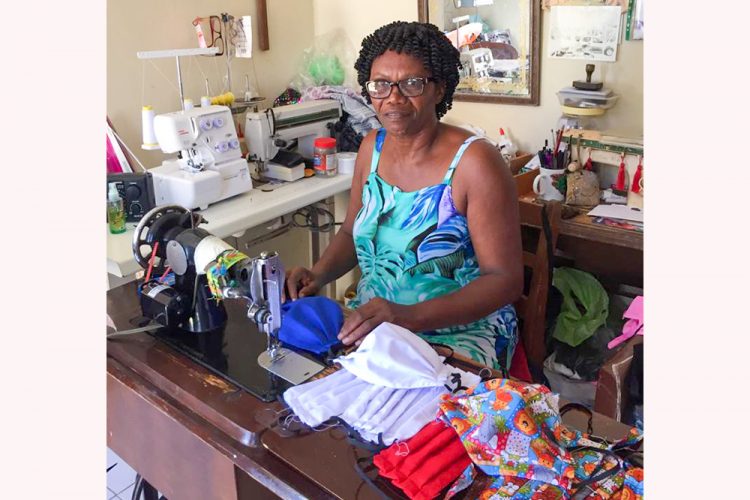 The St Vincent and the Grenadines Environment Fund (SVGEF) has made a donation of 1000 locally made face masks and 7400 hand soaps, valued at $22,200, to the Ministry of Agriculture for distribution.
The masks and hand soaps are intended for the use of farmers, fishermen, forestry users and traffickers in St Vincent and the Grenadines (SVG) as efforts to improve access to protective gears and handwashing material intensify. 
Minister of Agriculture Saboto Caesar, in thanking the SVGEF noted that, "workers in the productive sectors of agriculture, fisheries, manufacturing and construction have always been advised to use a mask, especially when applying certain chemicals and to protect from dust. I do not think that the proper use of a mask can hurt, especially in this period of the COVID 19 pandemic. Protecting yourself from dust and chemical inhalation is always advised. I am also aware that it is trending in Asia as a part of the fight against COVID 19."
Caesar, who is also the minister of industry, further encouraged local seamstresses and tailors to combine efforts with medical technical advice to explore the possibility of producing protective gears during this period.
Mane Paulpillai, a medical doctor, has given his support to the wearing of masks in the fight against COVID-19.
"The use of masks has been shown scientifically to help reduce the spread of droplets and thus the spread of the coronavirus. While precious resources are being allocated to those on the frontlines, and rightfully so, it should be noted that using masks can help reduce transmission within the general public. Right now in Asia, countries that are using masks are slowing the spread of the disease," Dr Paulpillai said.
"Any effort to reduce transmission even if it is less than that of the N95 masks does help. And if everyone is doing their part, small additive efforts by many will translate as to a greater cumulative effort to reduce disease transmission."
He however emphasized that masks, like any equipment, should be used properly to maintain their effectiveness.
Maintaining good hygiene, social distancing and boosting your overall immune system will add to these efforts to fend off COVID-19, he said.
The SVGEF is a conservation organisation operating in SVG.
In a release, the organisation said "In an effort to demonstrate our commitment to the needs of our respective communities, in the face of these significant global challenges, the Collective is launching a joint initiative to give special support for food production at this time. The Covid 19 pandemic is devastating communities, and negatively impacting their food supply chains. 
"At present in response to the Covid-19 threat, the Fund is prepared to offer additional support to farming and fishing communities in order to assist in developing a more robust food security system for the island." 
The SVGEF is of the view that by following the globally recommended protocols, propagated by WHO, we can all assist in mitigating the health and economic risks associated with this pandemic.