Posted on
PAHO donates PPE to SVG in the battle against COVID-19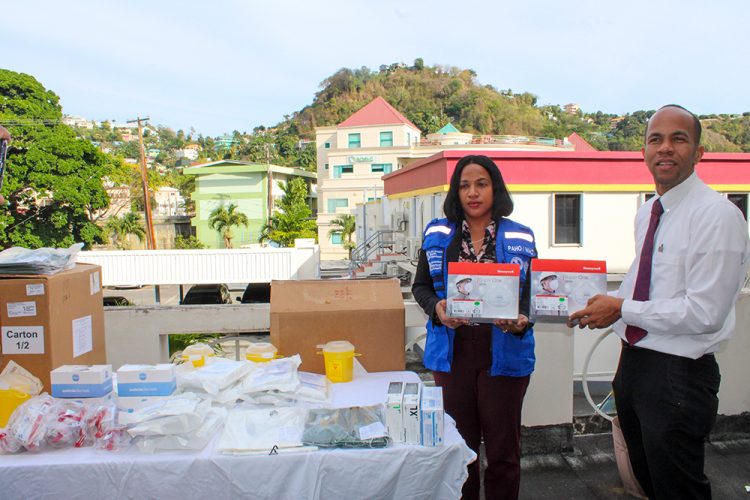 The Pan American Health Organization (PAHO) has donated "the whole works" of personal protective equipment (PPE) to frontline workers in St Vincent and the Grenadines (SVG) in the battle against the COVID-19 pandemic.
On Tuesday, during a handover ceremony, minister of health Luke Browne noted that it was the second time in two days that they were in that spot to receive a donation from different sources.
"We believe that it is very important for the public to recognize that we have partners on board that would help us with items that we need for our COVID fight," the Minister stated.
There have been two shipments from PAHO in the last two weeks with items such as N95 masks, gloves, surgical face masks, safety glasses, biosafety bags, and "the whole works," the Minister indicated.
It is not the first assistance that PAHO has given during the pandemic. Two weeks ago there was a PAHO team on the ground assisting by assessing St Vincent and the Grenadines'(SVG) degree of preparedness in areas such as clinical management, risk communication, testing and the progress of the isolation centre; Browne commented.
"…They gave us helpful information that has been incorporated into a strengthening of these systems," he added.
The international public health agency dedicated to improving the health and living standards of the people of the Americas, has also promised more help with the provision of testing kits.
The minister said he believes that initially, the organization will give around 400 testing kits, which "will really go a long way towards us doing one of the fundamental roles in this whole thing, which is making sure that as many people are tested as possible."
Nicole Slack-Liburd, the country program specialist attached to the PAHO regional office for Barbados and the Eastern Caribbean, indicated that PAHO continues to provide support to the Ministry of Health in its fight against COVID.
"There's a shortage of personal protective equipment all around the globe, and so we at PAHO will continue to source supplies to support the Ministry," she indicated.
Exact figures for the numbers in the donation were not indicated, but Slack-Liburd remembers that the shipment includes approximately 1500 gowns and 100 respirator masks, as an example.
"We will continue to source from our suppliers at the global level to continue to provide personal protective equipment to the ministry," she stated.
The country program specialist added that they will also be providing training on how to use the personal protective equipment.
Furthermore, she asserted that they are looking to provide additional supplies in terms of laboratory support.
"The ministry has been looking towards moving towards testing locally and we have been providing technical support," and will provide materials needed to perform COVID-19 testing locally, Slack-Liburd stated.