Posted on
Courts donates over 15,000 dollars worth of items to the Ministry of Health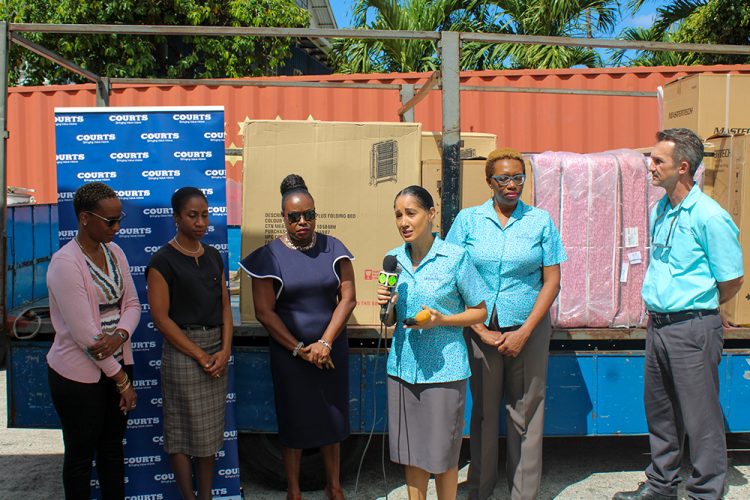 Courts St Vincent Limited has donated over 15,000 dollars worth of items to the Ministry of Health to outfit staff quarters at this country's Isolation Facility. 
Lisa Veira, Courts' commercial officer was present at the NEMO Warehouse with senior manager, Michele Samuel and warehouse manager Garvin Bailey to hand over the items on Tuesday, March 31. 
"Courts has always been an organisation that is very, very strong in terms of corporate social responsibility and we acknowledge that the medical profession, those persons who are essential services, that they are the ones who are on the front line, those are the persons who are dealing with the patients, they are the ones putting their lives literally on the line to ensure we have a very strong fight against COVID-19," Veira said. 
She expressed hope that other organisations would come forward as well to assist in the ongoing fight with the virus. 
"We encourage persons to be safe, to practice social distancing, to sanitise, wash your hands, follow the instructions outlined by the ministry and we will continue to fight this invisible enemy…" the commercial officer said. 
Michele Samuel, the senior manager said that the fight against COVID-19 was a shared responsibility. She added that Courts was pleased to play their part in the fight, noting that the company has already taken steps to protect its employees and customers. 
The items donated include single beds, mattresses, electric kettles, irons, ironing boards, an Ashley dining room set, a Mastertech washing machine and front load dryer, Mastertech fridge and stove and a Mabe microwave. 
"On behalf of the Ministry of Health, we would want to thank Courts for this generous donation. They approached us in our hour of need," Donna Bascombe, health disaster coordinator said. "I don't think a lot of persons realise that our response team who will be treating the COVID-19 positive severe cases, will have to remain on site."
Dr Charmaine Bailey- Rodgers, a medical epidemiologist and member of the COVID-19 Task Force said that three teams have been assembled to work on rotation once the Isolation facility opens. 
She told reporters that each team comprises 21 persons and so the donation from Courts St Vincent Limited will go a long way in accommodating these persons in the staff quarters. 
Dr Simone Keizer-Beache, the chief medical officer added that the facility, located at Argyle, is on the path to being completed by mid-April. 
The CMO thanked Courts for their donation and said it was an excellent start to furnishing the facility. 
"As we said, we are going to be housing the staff there and so we would welcome any other donations. If you reach out to us in the task force, we have our needs list, we can state how much we need, what we need..," she said.