Posted on
New ULP senator calls for unity in fight against COVID-19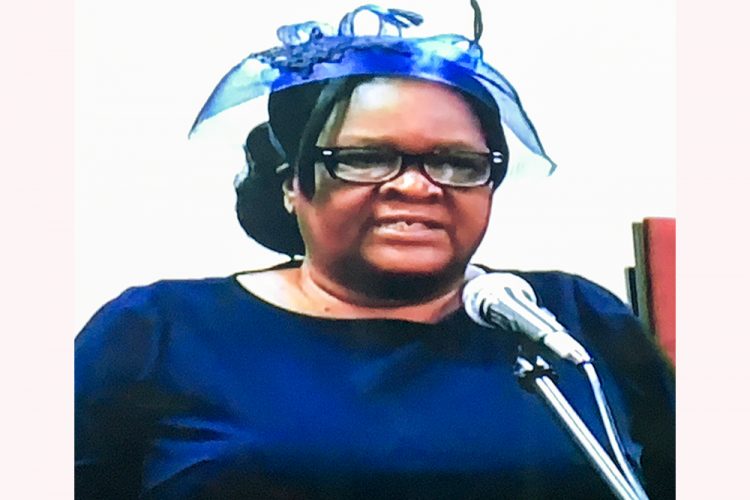 VINCENTIANS MUST stand united on matters of national interest, such as COVID-19 as it has implications for all of us.
So said Dr Mineva Glasgow as she delivered her first address in Parliament as a Unity Labour Party (ULP) senator and deputy Speaker of the House of Assembly.
"There's no need for divisiveness, we should collaborate to ensure that we fight this (COVID-19)," said Glasgow who was elected to the post of deputy speaker 11 votes to seven, defeating senator Kay Bacchus Baptiste, who had been nominated by the New Democratic Party.
Glasgow said at times, divergent views will be expressed in the House, but when it comes to national issues proper reasoning must ensue irrespective of political preference.
"And I would have said the same thing as a committed citizen of St Vincent and the Grenadines if the reins of power were on the other side," she said.
The newest member of the House also told parliamentarians that they should be conscious of the fact that when they speak in Parliament, given the rate of communication, people in the Diaspora and at home, listen to what is said.
"So, we must try as best as possible to be factual and do not misinform the people who listen, particularly our youth. We should be a beacon to them so that they can listen and learn and make objective assessments," she said.
The Questelles resident said she is looking forward to having a positive relationship with all the members of parliament.
"We can have divergent views, but we need to put the interests of Vincentians first and foremost. As we are aware, the business of Parliament is multifarious. We make and enact laws based on objective reasoning and we must uphold the laws that are made," said the former Deputy Director of the National Insurance Services (NIS).
"I am entering the house at a time of unprecedented changes and challenges, but I am not daunted by challenges. I bring to this house my experience as an educator, a social security practitioner and a human resources consultant.
"I believe that my years of experience together with my Christian principles, commitment, loyalty, dedication will allow me to make a substantive contribution to the debates and discussions in this House," she said.
"It is a privilege and honour to be asked to serve as the Deputy Speaker…. I will discharge my duties humbly and with dignity," Glasgow told Parliament while adding that serving at this level will afford her the opportunity to have a deeper understanding of Parliament, its proceedings and how she can work to make SVG better.
She said she would have liked her family members to be present for her swearing in, but COVID-19 stopped that.
"I know that they are listening or viewing and I want to express my thanks for all those who called and congratulated me in hearing about the appointment and those with whom I've spoken over the past week," the new senator said.
"As members of Parliament, it is critically important that we understand our role as representatives or caretakers of our constituents. It means therefore that we should be accessible, relevant, strategic and realistic about the needs of our people," Glasgow said.
She also acknowledged the contribution of former senator Carlos James, who she said made sterling contributions to debates. James replaced lawyer Jomo Thomas as Speaker in Parliament yesterday.
Glasgow encouraged James to be impartial yet firm in upholding the Standing Orders, and not allow partisanship to get in his way.