Posted on
Taiwan hands over equipment to help fight various diseases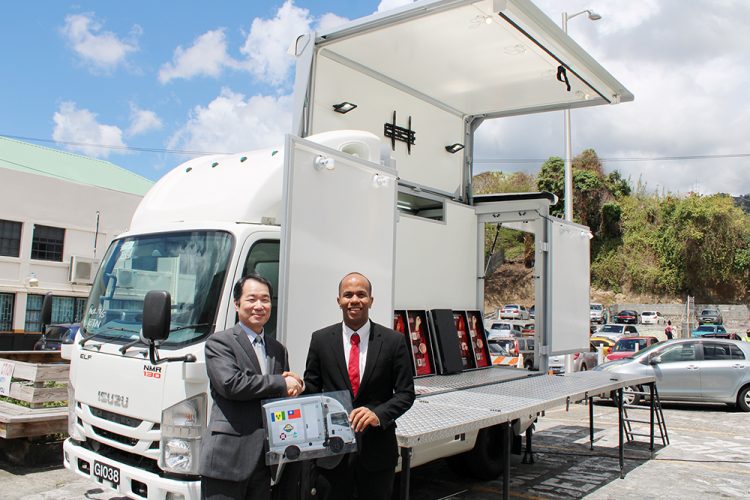 THE MINISTRY of Health is better equipped to carry out community awareness for non-communicable diseases like diabetes after receiving a truck for that purpose from the Republic of China on Taiwan.
Calvin Ho, Taiwan's ambassador to St Vincent and the Grenadines (SVG) symbolically handed over the vehicle to health minister, Luke Browne on March 12 at a small ceremony.
The ambassador said that the donation of the specialised vehicle will hopefully be beneficial to many more persons in SVG.
And he described it as an important donation as it will help to attract much needed attention.
Ho also highlighted several projects that Taiwan has partnered with SVG throughout its diplomatic relations.
The outreach truck is meant to help with the dissemination of important health information to the people in various communities.
When parked, the back of the truck opens up into a wider space to facilitate outreach between health care providers and community members. It is also equipped with loud speaker.
Browne, the health minister said the specialised vehicle from Taiwan will "help us tremendously, immensely with our outreach activities".
"[It will] help us to take the message of prevention and control of diabetes into our communities and diabetes and non-communicable disease is not a problem we should consider to be trivial, something that we can take for granted," he said.
The minister said SVG's last census recorded seven per cent of the population as having diabetes, second only to hypertension as the most prevalent non-communicable disease locally.
He also said that the situation is compounded as there are persons who suffer from both hypertension and diabetes.
"We decided in the ministry that we are not going to sit in our offices and wish that diabetes should go away, wish that hypertension should go away. We are going into the highways and byways…" Browne said.