Posted on
One day is not sufficient for us to celebrate – McKie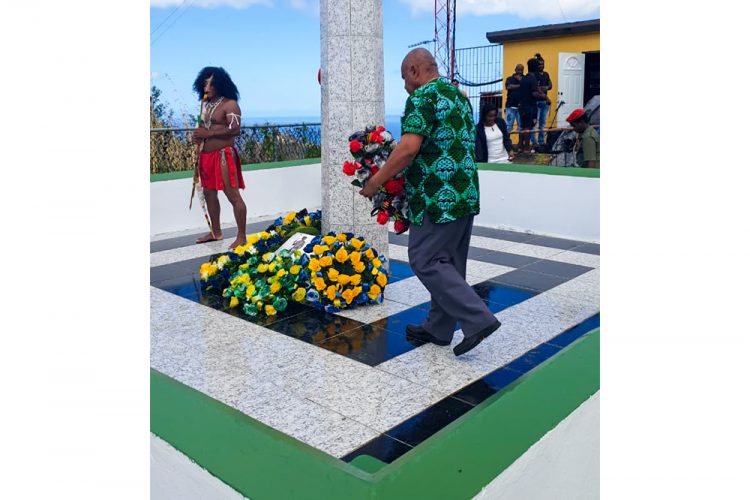 IT IS IMPORTANT that we celebrate not only once a year, but all year round, our local indigenous people and the struggles the Garifuna people faced.
Minister of Culture Cecil McKie made the point on National Heroes Day, March 14, while addressing persons gathered at the Obelisk at Dorsetshire Hill. Speaking during the ceremony which is held annually to recognize our lone national hero Paramount Chief Joseph Chatoyer, McKie said one day is not sufficient for us to celebrate, so gatherings like the Obelisk initiative and other events held in the month of March are important.
The culture minister praised the work of the Garifuna Heritage Foundation and other institutions that share a similar mandate.
He said events like the International Garifuna Conference (into its seventh year) and the Garifuna workshops, conferences and seminars work not only to engage the indigenous people of St Vincent and the Grenadines (SVG), but to tell about the rich story of the Garinagu/ Garifuna.
McKie added also that his Ministry is willing to work with the various entities to establish here, a research center that highlights and places focus on the Garifuna people, not only in SVG but in their adopted homelands.
"Over the next couple months, we'll pay attention to the opportunity to sell the Garifuna story and also to educate not only Vincentians, but persons who come into our shores," said McKie.
He also spoke about the importance of the Cayo Village in Argyle, expanding the Chatoyer National Park in Rabacca and the work the National Trust has done in preserving the petroglyphs and honouring Morrison Baisden for the work he has done in keeping the Garifuna memory alive.