Posted on
Woman killed in traffic accident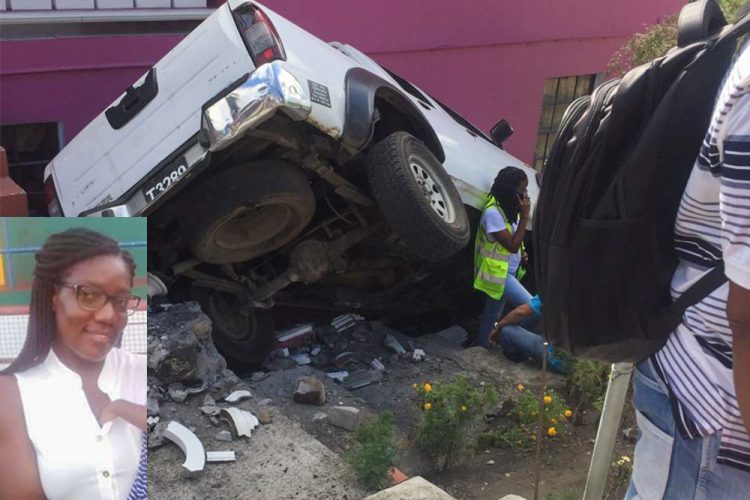 A WOMAN and two young children were struck by a pickup truck that ran off the road at Rilland Hill on Wednesday, March 18, resulting in the death of the woman and the hospitalization of the children.
Shanell John, a resident of Campden Park and an employee of the Questelles Gas Station, was reportedly walking along the public road when she was hit and dragged into the yard of the Little Flower Pre-School.
Reports are that at around 3:20 pm, the driver, who is said to have a medical condition, lost control of the white twin cab pickup, number plate T3289, and it ran off the road.
A release from the police said "according to investigations, Motor Vehicle (M/V) T3289 a white Jeep owned by Dipcon Engineering and driven by Garry Cozier of Belair was traveling along the Nelson Mandela Highway from Rilland Hill to Pembroke, when he allegedly lost control due to his diabetic condition and reportedly suffered a "Block out".
As a result, Cozier allegedly lost control of M/V T3289 causing him to run into the Little Flower Preschool and strike Shannel John, a 33-year-old Gas Station Attendant of Campden Park, killing her in the process. John was at the time collecting her son from school.
"The motor vehicle also reportedly struck two seven-year-old Grade 2 Students. The Students were subsequently rushed to the Milton Cato Memorial Hospital for medical attention. The students reportedly suffered injuries to their faces and lower body and are reported to be in stable condition."
John was killed on the spot, and the two children who were hurt were taken to the hospital for treatment, but are now said to be in good condition.
The accident is said to have left two boys and one little girl without a mother.
A Post Mortem Examination is expected to be conducted on the body of the deceased to ascertain the cause of death.
Shannel John's Death marks the second road fatality for the year 2020.
Garry Cozier is currently assisting the police with the investigations.