Posted on
Coronavirus assessment pods being installed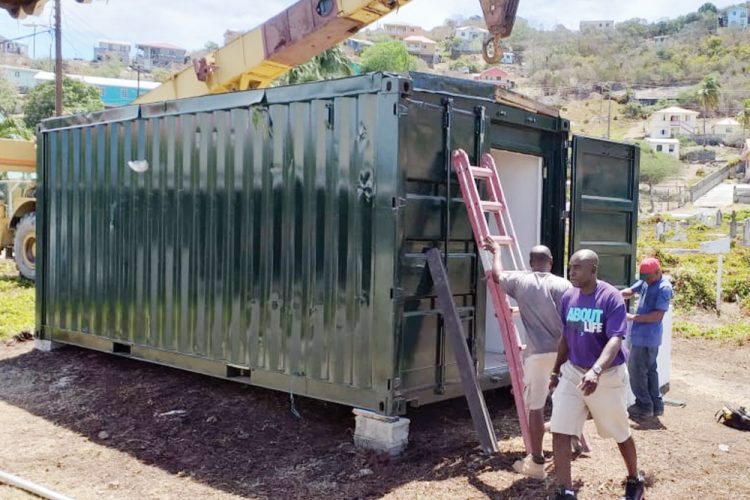 ASSESSMENT PODS for persons displaying flu-like symptoms that may be related to the novel coronavirus (COVID-19) have been placed on mainland St Vincent and all but one Grenadine island.
The pods were distributed and set in place between Monday and Wednesday this week on Bequia, Canouan, Mayreau, Union Island as well as on mainland St Vincent.
"The assessment pod is for persons showing signs or symptoms relating to the coronavirus. They're not to go to the clinic," Dominique Stowe, who was in charge of the Assessment Pod distribution project told SEARCHLIGHT.
Prime Minister Dr Ralph Gonsalves announced on Saturday, March 14 that government had secured assistance from Canouan investor, Dermott Desmond to retrofit five containers to be used on the Grenadine islands and the mainland.
Stowe, who is the security manager of Glossy Bay Marina said the pods were meant to protect vulnerable people using the hospitals by having suspected cases of COVID-19 assessed in a separate facility.
He said the 20ft pods were not quarantine areas or hospitals or clinics, but simply an area to assess persons who may be experiencing symptoms relating to COVID-19.
The pods are green in colour with a window and door and once set up, they will have running water and air conditioning.
"This is being coordinated by us, along with the Government and the communities throughout with persons coming on board to help with the set up," Stowe told SEARCHLIGHT.
He also said that a sign will be erected at the front of the pods with the words "ASSESSMENT POD" so that persons are aware of where they should go to be assessed for the virus.
Stowe urged persons experiencing symptoms of COVID-19 to make use of the pods and avoid clinics and hospitals.
The Prime Minister, on Saturday, noted that separate arrangements have been made for the people of Mustique and that the Government has been in discussions with the CEO of Mustique Company Limited about steps to be taken on that island.