Posted on
International Conference focuses on Removing Stigma and the Revival of the Garifuna Culture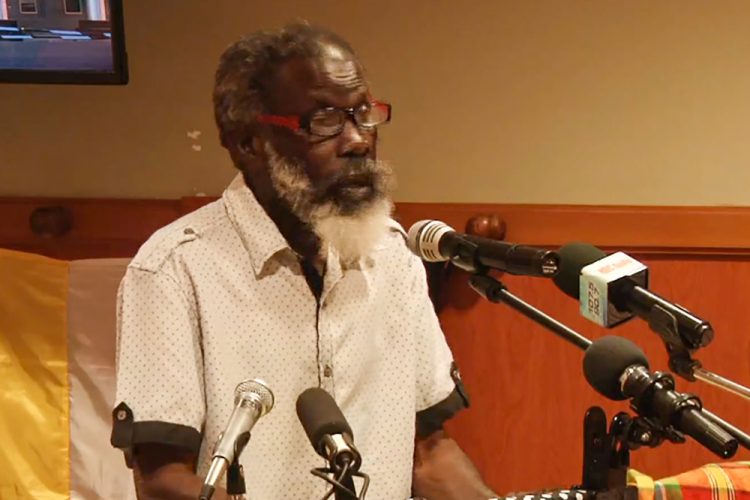 THE EFFORTS being made to remove stigma attached to the Garifuna culture and its overall revival through education was the focus of this year's International Garifuna Conference.
The conference, which is in its seventh year, officially opened on Wednesday, March 11 with a ceremony at the National Insurance Services (NIS) conference room.
It was held under the theme: "Indigenous Caribbean: Rethinking a strategic direction for reviving Garifuna heritage and culture through education", and ended last Friday after a threeday agenda packed with workshops and formal sessions.
"I believe that everyone of us in this room this morning — particularly those who are born, bred Vincentians — all of us are quite familiar with the negative stigma associated with being called Carib and the unjust treatment meted out sometimes by us, who think we are not Caribs…" David 'Darkie' Williams, the president of the Garifuna Heritage Foundation said at Wednesday's opening ceremony.
He said that the residue of that stigma still exists in today's society but he believes that the work of the Garifuna Heritage Foundation has been pivotal in negating and to an extent, erasing most of that negativity.
Williams acknowledged the many entities — locally, regionally and internationally, that have partnered with the Foundation so far to advance the work of the Foundation in reviving the indigenous culture of Garifuna.
St Clair 'Jimmy' Prince, the education minister said indigenous communities no longer see themselves as second class citizens as they once did not too long ago.
But while this is the case, he said that too few Vincentians appreciate the country's heritage.
The education minister also expressed fear that despite the Foundation's efforts, the conversation about indigenous culture "remains mainly in the clutches of academia and sometimes academia doesn't give up easily that which it has captured".
"The fact that we now have to be talking about reviving cultures which dominated these islands for hundreds of years before the advent of Europeans, speaks volumes of the far reaching effect of colonisation," Prince said. "But we must not forget, lest we lose more than culture and history. We must not forget because
we are in danger of losing ourselves."
The 7th International Garifuna Conference comprised six sessions at the NIS conference room and four workshops at the Peace Memorial Hall.
Session topics spanned climate change, heritage tourism, indigenous communities in the Caribbean, including a case study of Greiggs in St Vincent, the role of afro-descendants in indigenous culture, reviving Garifuna and Kalinago culture.
And workshops focused on gathering and analysing oral history among friends and family, practices and uses of medicinal plants, film making and heritage and teaching Garifuna language to primary school children.
Dr Cleve Scott, historian and keynote speaker noted that the Garifuna people who were made to leave St Vincent and eventually settle on Roatan Island in Honduras and in Belize were able to hold on to the culture and language.
And despite those elements having originated in St Vincent, colonisation caused the erosion of the culture here.
Scott, who is a lecturer in the History department at the University of the West Indies, Cave Hill campus, said many were once afraid to claim their heritage in public, while others today continue to fight to be recognised as an ethnicity outside of the ones that are mainstream.
" The question is, as we go forward, how do we cater to separate ethnicity? Are we still afraid to claim who we are? How do we manage this double consciousness?" he said. "When March comes around, we want to celebrate Garifuna, we want to celebrate Garifuna culture. But what happens after that?"
Cecil McKie, minister with responsibility for culture and Professor Velma Newton, project director of IMPACT Justice also spoke at Wednesday's opening ceremony.