Posted on
WPP holds first diagnostic cardiology mission in SVG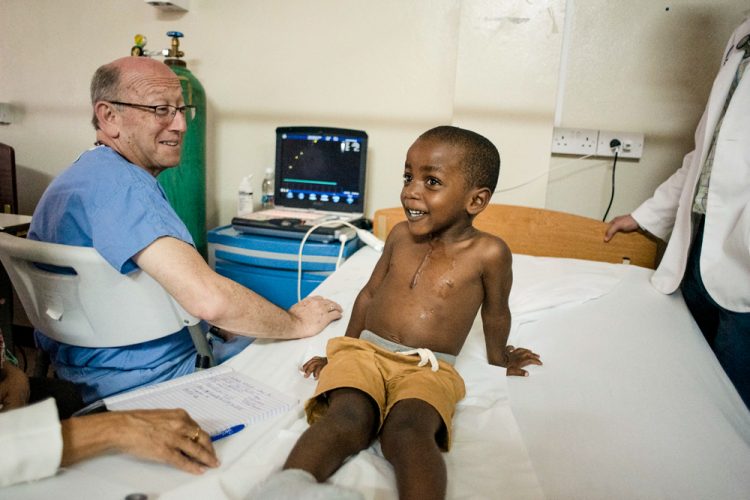 ONE HUNDRED children were screened and six scheduled for surgery when the World Pediatric Project (WPP) held its first diagnostic cardiology mission in St Vincent and the Grenadines (SVG) for 2020.
The mission, which ran from February 28 to March 2 at the Milton Cato Memorial Hospital was led by Dr William Moskowitz, assisted by pediatric cardiology resident Dr Theodore Millett and paediatrician Dr Bharati Datta with additional support from the local team.
The six surgeries that have been scheduled will take place in Richmond, Virgina in the United States because of the complexity of the surgical invention and all that they will require.
Dr Moskowitz said much of the time was spent following up with children who had previously been operated on and to see how they are doing and if it is time for another surgery.
"A lot of times the surgeries that we do in infancy and young childhood don't grow with the patients, so once they have achieved adolescence growth, a lot of time we have to go back to the catheterization and put in a large suture line or enlarge the stents we put in the past, to keep up with their growth. The idea is to maintain them as active as possible and as normal as possible so they can reach their adult growth, development and activities," Dr Moskowitz said.
He also urged members of the public to get screened for rheumatic heart disease which according to the World Health Organization is endemic to the Eastern Caribbean.
"… Every time we come here for the last almost two decades we see rheumatic heart disease, we have… built a program for detection and prevention, and clearly over the last number of years
there have been fewer cases so that part of it is working, but we have to continue to educate the principals and teachers in the schools; the parents of children as well as the health districts to look out for strep throat and to treat it early to prevent rheumatic fever and then if you have rheumatic fever to prevent recurrences by being sure the patients continue to get penicillin every month."
He said in SVG there is far more rheumatic heart disease than there is congenital heart disease.
Similar diagnostic cardiology clinics were also held in St Lucia, Dominica and St Kitts as part of the decentralization of services provided by WPP and an upcoming clinic is scheduled in Antigua this weekend.
The WPP said it continues to prioritize the medical needs of our children and seeks the support of the public in their fundraising activities.