Posted on
Matthews' twisting of 'sucking mango' into something sexual a sign of desperation – PM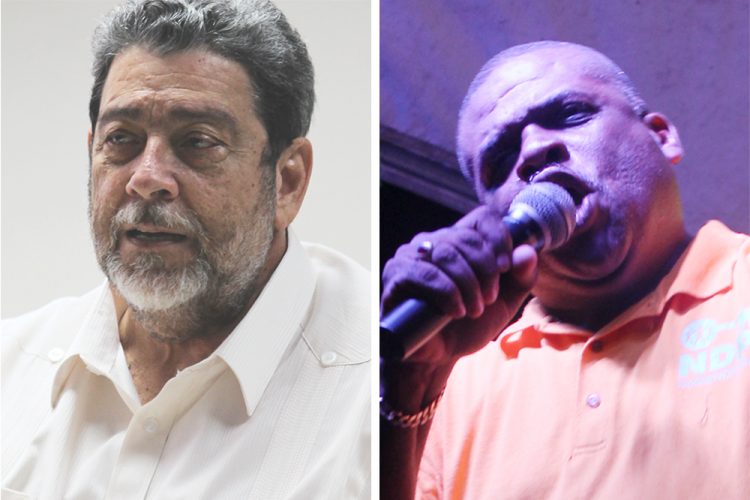 Turning into something sexual, Prime Minister Dr Ralph Gonsalves' metaphoric use of the sucking of mangoes, is a sign of desperation.
That's the view of the Prime Minister, who on Monday told media professionals at Cabinet Room that Roland "Patel" Matthews is desperate as he is hanging on to the North Leeward parliamentary seat by a thread.
During Gonsalves closing remarks in the 2020 budget debate last month, he commented that he does not need a ladder to pick the North Leeward, South Leeward and East Kingstown parliamentary seats held by the NDP. He said he could simply raise his hand to pick the mangoes and suck them.
But last week, Matthews, during a public meeting in North Leeward, likened Gonsalves' mango sucking comment to something sexual.
"…Now hear me now, if Ralph want suck and mek sure he suck good ah nah, because I know the people of North Leeward, well me nah think ah man he ah talk bout, he car be talking about the men; so I know the women of my constituency will not allow such a despicable individual to even attempt to doing what he said he want to do.
"I want the young women of North Leeward to send a message to Ralph Gonsalves to tell him he can suck all he want, but he nah suck nobody down ya. In order for us to prevent any sucking here, we have to get rid of him," Matthews told a gathering in the constituency he represents in Parliament.
Commenting, the Prime Minister said that as he wound up the budget debate, he said he was going particularly for the NDP's North Leeward, South Leeward and East Kingstown seats because they are the most marginal.
"I say those three I going for and the others also but those there are easy pickings and I went further and said I don't need a ladder for them. I could go under the mango tree and just pick, push up me hand and pick the ripe mango.
"And what do you do with mango? You eat mango and you suck mango. You want to tell me a man who supposed to lead people misinterpreting mango and say mango mean woman?" Gonsalves commented.
He said it is not up to him to say how the NDP should respond to the lewd comments, but he knows how the people in North Leeward will respond.
"He holding on by a fingernail, by a thread. I am using metaphors again. Thread means something else too, but I ain't going there, I'm talking about thread because it look as though you can't use, for some people, metaphoric language or the rich tradition of language.
"They gone and carry it somewhere, nasty up their own mind. Patel is hanging on by he fingernail, by a thread and he is getting desperate because he will lose," Gonsalves said.
"Now when people are getting so desperate, and it's so early, what they gwine say later on?" Gonsalves questioned.
Last Thursday, Clemroy Bert Francois, one of the hosts of the NDP's New Times radio program on Nice Radio attempted to replay the audio from public meeting in which Matthews made the comments but the station's owner Douglas "Duggie" DeFreitas stormed into the studio and accosted Francois live on air, stating his disgust at what Matthews said.
The move by DeFreitas was met with hostile commentary on social media, and some NDP supporters accused the station owner of embarrassing Francois live on air.
But Gonsalves said DeFreitas acted in good sense as the comments were out of order and should never have been aired.
The Prime Minister said the electorate in North Leeward should punish Matthews for referring to the women as mangoes. "People wives and daughters, your friends walking down the street in Chateaubelair, they look like mango?" questioned Gonsalves.