Posted on
SVG to host investment forum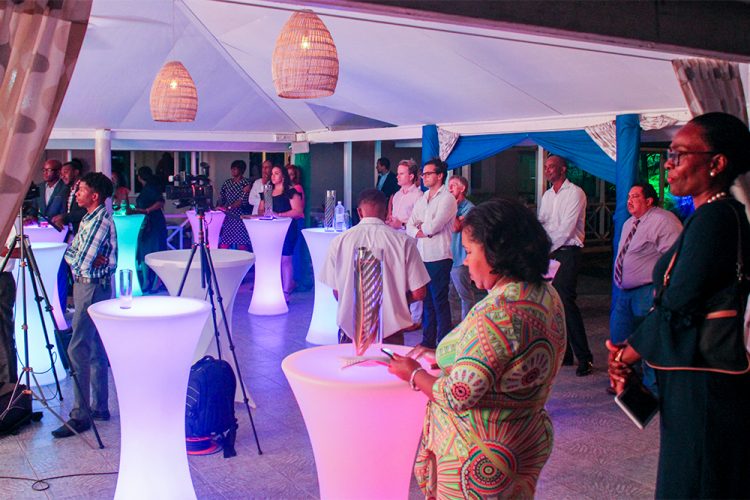 THIS COUNTRY HAS embarked on a mission to attract investors for specific areas of the economy by hosting its first ever Investment Forum.
The forum, which is scheduled to be held on May 2, 2020 at the Amitabah Villa in Bequia, was launched on Tuesday, February 18 at a cocktail-style event.
"We're [going to] bring the investors here to St Vincent, and, in bringing them to St Vincent, we want them to see the kind of infrastructural development that we have here so that they could realise that St Vincent and the Grenadines is a premier destination for investments," Annette Mark, the managing director of Invest SVG said at Tuesday's event.
Mark explained that it has been particularly difficult to attract investors, who, in some cases are not aware that the Caribbean is made up of more than one independent country.
And the hope is that the investment forum will enlighten investors to the range of opportunities that this country has to offer.
The event is expected to have at least 100 participants comprising investors, the local private sector, government officials and development partners.
Mark said the mission is essentially to develop the country's export potential and capacity, while attracting local and foreign investors.
She also said that the impact of the exercise will be measured by the level of interest they receive after the forum, and the increased visibility that it would create, as well as Invest SVG's ability to convert leads into tangible investments for the country.
Camillo Gonsalves, who has ministerial responsibility for Invest SVG, said that this country is at "a particularly exciting place" in terms of economic development.
Gonsalves said that simply attending trade shows where other countries in the Caribbean are also promoting themselves, is not an effective way to generate investments.
The minister highlighted several aspects of the country that he believes to be unique, and poised to place this archipelagic nation a step above the rest.
"We think, for example, that it's good business to bring people to St Vincent and the Grenadine to feed them our agricultural produce, bring people to St. Vincent and the Grenadines for them to enjoy the entertainment and the talent that we have, bring people to St Vincent and the Grenadines for them to understand and see the very special gifts that our country ha and bring the market here to consumers here," Gonsalves said.
He pointed out that St Vincent and the Grenadines has done fairly well in terms of attracting investments, whether through those in Mustique, Canaoun or the geothermal project.
But Gonsalves said he believes that more can be done in this regard.
And he said that if the country could bring the investors in, and present them with pitches that have specific focus in areas in which they are interested , then St Vincent and the Grenadines will be able to generate more success than when it attends the typical trade show.
The minister expressed hope that the initiative will bring significant benefits to the country once the concept has been fully developed.
"We want investment because we're in a hurry to develop. We're in a hurry to create jobs. We're in a hurry to grow our economy. And the best way to do that is to create a facilitating environment to business and a bespoke, tailored environment for investors who are looking for a mutually beneficial partnership here in St Vincent and the Grenadines," Gonsalves said.
Other speakers at Tuesday's event included Anthony Regisford, chairman of the Invest SVG board, Gayle Gallop, the special advisor of legal affairs at Caribbean Export Development Agency (CEDA), and Russell Franklyn, the operations and financial co-ordinator at IDB Compete Caribbean.
Invest SVG will unveil its online portal for the Investment Forum 2020, on February 24.