Posted on
US$305 million disbursed to borrowing members in 2019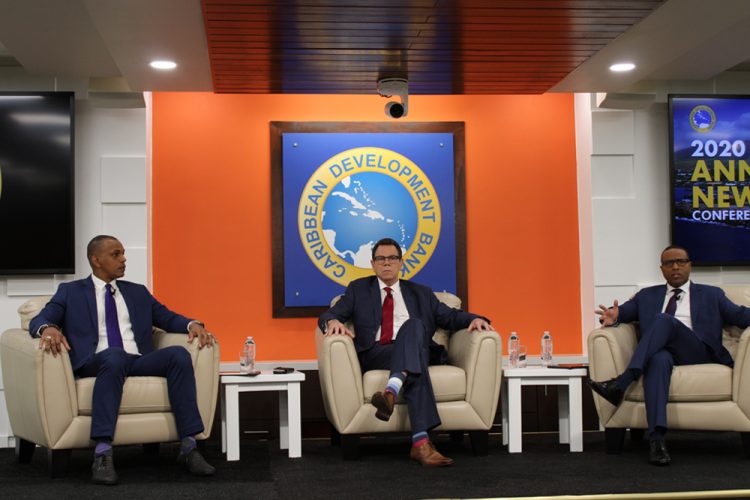 THE CARIBBEAN Development Bank's (CDB) disbursement to its borrowing member countries has increased for the fourth consecutive year.
This was disclosed at the Bank's annual press conference which was held on Tuesday, February 11, at the CDB headquarters in Barbados.
Daniel Best, the Director of Projects, said that the Bank disbursed US$305 million in 2019 to its borrowing member countries, (BMCs), an eight per cent increase on the figure in 2018.
"This is the result of our ongoing focus on supervision and essential technical support to our BMC's so that they can implement projects that have been approved," Best said.
He continued: "development does not happen without implementation. CDB will continue to work closely with our BMC's to help them implement the projects that will transform the lives of our people".
One of the more sizeable projects approved by the CDB's Board of Directors is the Kingstown Port
Modernisation project, which is being part funded by a US$110 million loan from the CDB and a GBP25.6 million grant from the CDB-administered United Kingdom Infrastructure Fund.
This country is also among others that will benefit from CDB's investment in late 2019, of almost US$100 million to install LED street lights.
And Best said this is in an effort to enhance energy security within the region.
The CDB officials are also hopeful for the strides that will be made in this year.
Dr William Warren Smith, the President of the financial institution said, that the CDB needs to become better equipped to be a more effective partner to its borrowing member countries.
And in 2020, it will focus on its internal transformation programme, which began last year.
"Some immediate tasks call for deepening our customer relationships and becoming more responsive to BMC needs; supporting capacity and institution building; and ramping up the pace of disbursements so that the projects can deliver even faster, the promised development impacts," Smith said.
Dr Justin Ram, the Director of Economics said that the Bank will also engage in research that will provide a base for promoting inclusive and resilient economies.
"The Caribbean Development Bank underscores the need to build inclusive, competitive and resilient economies, to improve the quality of life for Caribbean citizens. To achieve this we need sound macro-economic management, environmental preparedness, human development, productivity, and competitiveness," he said.
Ram said that in 2020, the CDB will continue its research and offer policy advice that is relevant and of high quality to provide the necessary pathways to solutions for BMC's and their citizens.